Chicken Satay with Peanut Sauce
Recipe of the Day: The Pioneer Woman - Ree Drummond's Chicken Satay with Peanut Sauce ???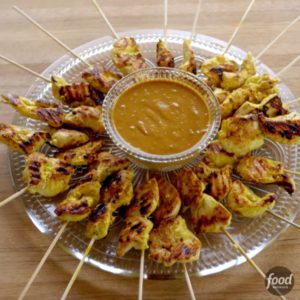 Ingredients
Chicken:
2 pounds chicken tenders
1 cup yogurt
1 tablespoon curry powder
4 dashes hot sauce, or to taste
2 cloves garlic, minced
1 shallot, minced
1-inch piece fresh ginger, minced
Kosher salt
Peanut Sauce:
1 tablespoon vegetable oil
1 tablespoon curry powder
2 cloves garlic, minced
1 shallot, minced
1-inch piece fresh ginger, minced
½ cup smooth peanut butter
½ cup coconut milk
¼ cup soy sauce
2 tablespoons brown sugar
½ teaspoon hot chili oil
Juice of 2 limes
Kosher salt
½ cup hot water
½ cup chopped fresh cilantro, for garnish
Instructions
For the chicken:
Cut the chicken tenders into 2-inch pieces and put in a large container. Whisk together the yogurt, curry powder, hot sauce, garlic, shallot, ginger and some salt in a small bowl. Pour over the chicken, cover and marinate, refrigerated, for 1 to 2 hours.
Meanwhile, soak the wooden skewers in water.
When ready to cook the chicken, heat a grill pan over medium heat.
Remove the chicken from the marinade and thread 2 pieces onto each skewer. Grill the chicken until cooked through with nice grill marks, 3 to 4 minutes per side. Let cool. Cover and refrigerate.
For the peanut sauce:
In a small pot, heat the oil. Cook the curry powder, garlic, shallot and ginger until the aromatics are soft. Scrape this into a blender and add the peanut butter, coconut milk, soy sauce, brown sugar, hot chili oil, lime juice and a pinch of salt. Blend, adding the hot water a little at a time to thin it and make it smooth. Transfer to a bowl, cover and refrigerate.
To serve, put a bowl or ramekin of the peanut sauce in the center of a round serving plate. Arrange the skewers in a circular pattern around the bowl with the meat facing toward the center. Sprinkle with the cilantro.
Watch the recipe video here: