CHEESY GARLIC ROASTED ASPARAGUS
Cheesy Garlic Roasted Asparagus with mozzarella cheese is the best side dish to any meal! Low Carb, Keto AND the perfect way to get your veggies in! Even non-asparagus fans LOVE this recipe! Tastes so amazing that the whole family gets behind this one.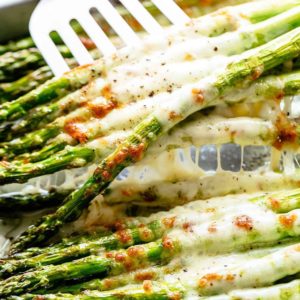 Ingredients
1 pound (500 g) asparagus spears, woody ends removed
3 tablespoons olive oil
1 tablespoon minced garlic (or 4 cloves garlic, minced)
¾ teaspoon Kosher salt
¼ teaspoon fresh cracked black pepper
1¼ cup shredded mozzarella cheese
Instructions
Preheat oven to 425°F (220°C). Lightly grease a baking sheet with nonstick cooking oil spray.
Arrange asparagus on baking sheet. Set aside.
In a small bowl mix together olive oil, garlic, salt and pepper. Drizzle the oil mixture over the asparagus and toss to evenly coat.
Bake for 10-15 minutes until vibrant and just beginning to get tender.
Remove from oven and top with the mozzarella cheese. Return to oven and broil (or grill) until the cheese melts and becomes golden (about 4-5 minutes).
Adjust salt and pepper, if needed. Serve immediately.
Watch the recipe video here: