Puff Pastry Jalapeño Bites
Anyone who loves stuffed jalapeño poppers are going to love this recipe! Because face it, anything wrapped in puff pastry is going to turn out amazing! It also just might be the easiest recipe out there. All you do is stuff and wrap. How awesome is that?! Everyone was raving about these bad boys! They were gone in no time!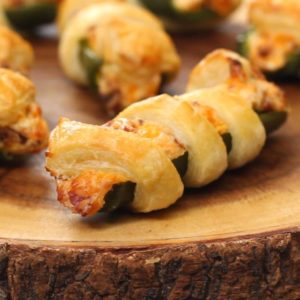 Ingredients
6 Jalapeños, halved and seeds removed
1 Box puff pastry (1 sheet)
8 ounces Cream cheese
½ CUP Bacon pieces
1 CUP Cheddar, shredded
4 Cloves Minced garlic
1 Egg
Olive oil
Instructions
Preheat oven to 400°F
Unfold thawed pastry sheet and slice dough into strips. (see on video)
In a large bowl, mix together cream cheese, bacon, cheddar, and garlic.
Spoon cream cheese filling into jalapeño halves.
Whisk together egg and 3 tablespoons water.
Brush egg mixture over poppers.
Bake for 20 minutes.
Enjoy!
Watch the recipe video here: