Oreo Rice Krispies Treats
I know it's pretty common to try different styles of rice crispy treats, but this is the first time I've ever heard of making them with Oreos! As soon as I found this recipe, I knew I had to try it!! Any Oreo lover out there can appreciate the crispy goodness of these bad boys. These are perfect to whip up before a last minute party!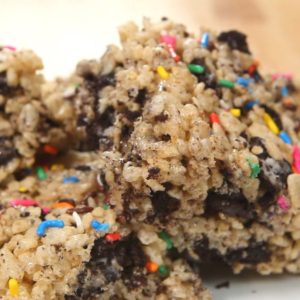 Ingredients
6 CUPS Rice Krispie Cereal
20 Regular Oreos, chopped
5 CUPS Mini marshmallows
3 Tbsp. butter
Sprinkles
Instructions
Spray a 9×13 dish with cooking spray.
In a large bowl, pour measured Rice Krispie Cereal.
Chop and mash Oreos.
You want the Oreos to be a variety of sizes from chunky to finely crushed.
Add Oreos to Rice Krispy cereal and stir to combine.
In a medium sauce pan, heat butter and marshmallows together over medium heat, stirring constantly, until they melt together.
Pour melted marshmallows over cereal and oreos and use a spatula sprayed with non-stick cooking spray to quickly combine all the ingredients.
As soon as all the cereal is combined, spread mixture into the prepared 9×13″ dish. Use the spatula to press the mixture around the dish, and flatten as needed.
Let sit until completely cooled.
Sprinkles some fun colored sprinkles on top.
Enjoy!
Watch the recipe video here: