No-Churn Blueberry-Cheesecake Ice Cream
What We're Loving: No-Churn Blueberry Cheesecake Ice Cream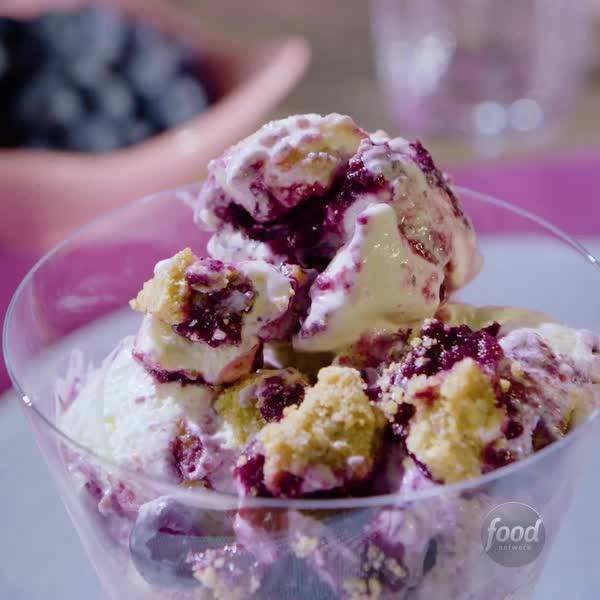 Ingredients
For the cheesecake bites:
⅔ cup graham cracker crumbs (from 4 sheets)
2 tablespoons unsalted butter, melted
3 tablespoons sugar
2 ounces cream cheese, at room temperature
2 tablespoons heavy cream
1 teaspoon fresh lemon juice
½ teaspoon pure vanilla extract
For the blueberry sauce:
3 cups fresh blueberries (about 1½ pints)
½ cup sugar
1 tablespoon cornstarch
1 tablespoon fresh lemon juice
For the ice cream:
2 cups heavy cream
6 ounces cream cheese, at room temperature
⅔ cup sour cream
⅔ cup sugar
1 teaspoon pure vanilla extract
½ teaspoon finely grated lemon zest
Pinch of salt
Instructions
Make the cheesecake bites: Toss the graham cracker crumbs with the melted butter and 1 tablespoon sugar in a medium bowl. Divide between two 1½-cup bowls or ramekins; press into the bottoms and up the sides. Put the cream cheese in the medium bowl (no need to wipe clean); stir with a spatula. Add the heavy cream, lemon juice, vanilla and remaining 2 tablespoons sugar; mix until smooth. Spoon into the prepared bowls, cover and freeze until firm, about 2 hours. Remove the bowls from the freezer and run a knife around the cheesecakes; turn out onto a cutting board and roughly chop. Cover and keep frozen until ready to use.
Meanwhile, make the blueberry sauce: Combine the blueberries, sugar, cornstarch, lemon juice and 1 cup water in a medium saucepan; bring to a simmer, stirring occasionally. Cook, stirring occasionally, gently squashing the berries as they soften, until the mixture is thick and shiny, about 30 minutes. (You should have about 1⅔ cups of sauce; cook slightly longer to reduce if necessary.) Transfer to a small bowl and refrigerate until cold.
Make the ice cream: Put the heavy cream, cream cheese, sour cream, sugar, vanilla, lemon zest and salt in a food processor; process until very thick and fluffy. Layer the ice cream mixture, blueberry sauce and cheesecake bites in a shallow 2-quart baking dish. Cover with plastic wrap, pressing against the surface; freeze at least 3 hours. Let sit at room temperature 20 minutes before scooping.
Watch the recipe video here: