Rainbow Piñata Cake
Dreams really do come true with the rainbow surprise cake!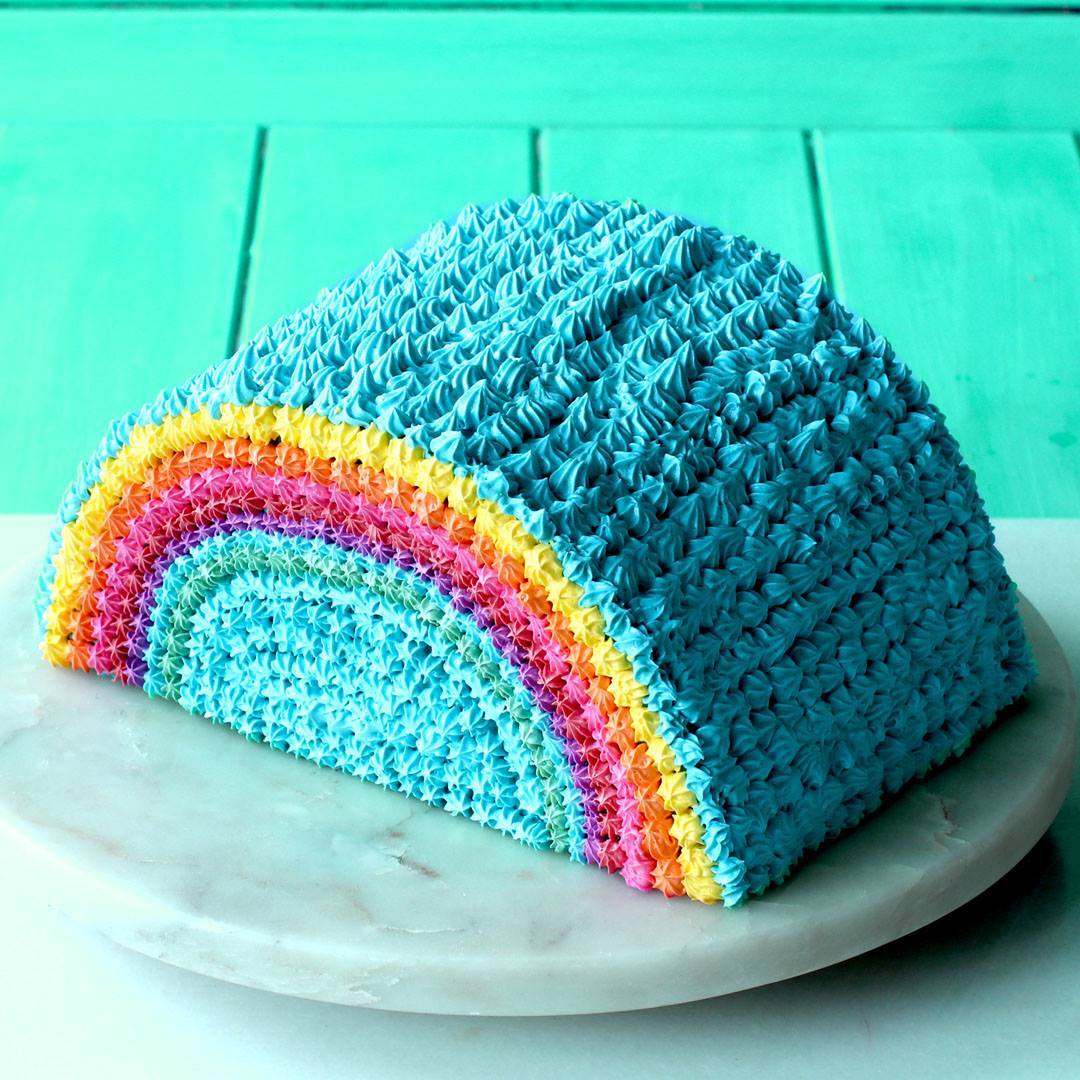 Ingredients
Cake
429g all-purpose flour
265g caster (superfine) sugar
3 tsp baking powder
½ tsp salt
125g unsalted butter, softened
375ml of milk
2 large eggs
125ml vegetable oil
1 tbsp vanilla extract
1 cup funfetti sprinkles
Frosting
2 batches Swiss meringue buttercream frosting
3 drops blue food gel
2 drops green food gel
3 drops yellow food gel
2 drops orange food gel
4 drops red food gel
2 drops purple food gel
Decorations
1 ½ cups of your fave candy. I used peanut m&m's, jelly beans and large round chocolate and coconut balls.
Instructions
Frosting
To prepare the frosting colour 1 batch of it blue, and then split the rest up into separate bowls and colour each colour of the rainbow that's listed in the ingredients list.
Cake
Preheat a fan-forced oven to 140C (280F) or 160C (320F) for a conventional oven. Spray two 8" cake tins with oil spray and line the bottom with baking paper. Set aside.
Add sugar and butter to a large mixing bowl. Use a hand mixer to beat until it goes pae in colour.
Add the eggs and vanilla and mix until well combined.
Add half the flour and milk, mix and then add the rest of the flour and milk and mix until everything comes together.
Add the funfetti sprinkles and gently fold in. Don't mix too much otherwise you'll risk the colours bleeding and making the batter grey.
Fill two 8" cake tins with batter. I find using an ice cream scoop to help me do this makes it easy to distribute the batter evenly so that everything bakes at the same time.
Bake for 50-60 min or until a toothpick inserted comes out clean. If the pick comes out with wet batter, bake for a further 10 min at a time until fully baked. Allow the cakes to cool to room temperature inside the cake tins and then chill them in the fridge overnight. Chilling your cakes overnight makes them easier to trim and decorate. So I bake my cakes the day before I decorate them.
To trim your chilled cakes, use a cake leveller or large serrated knife to carefully trim each cake in half. Then trim all cake layers in half to create half round shaped cakes. You'll end up with 8 layers of cake.
Use a large round cookie cutter to cut out a half sphere shape from 6 if the 8 cake layers. Discard the cake trimmings. This will help create the cavity in the centre of the cake where you'll add your candy!
We're going to fill the cake with each coloured frosting. So each layer will have a different colour. Begin with the yellow frosting followed by the orange frosting on the next layer, pink, red, purple, blue and finish with the green on the final uncut layer. Chill the cake for 30 min.
Take the cake out of the fridge, and carefully flip the cake around. Fill the cavity with your fave candy and place a 10" cake board on top. And slowly flip cake right side up.
Add blue frosting to the outside of the cake and use a small offset spatula to spread around. Use a cake scraper to scrape away excess frosting. This is called the crumb coat and is aimed at trapping any cake crumbs so that random bits of cake crumbs don't show up on the final layer of frosting. Chill for 30 min.
Fit the end of a piping bag with a small star tip and frost the rainbow on the front and back of the cake. Fil in the gaps with blue frosting. Slice up to serve!
Watch the recipe video here:
Dreams really do come true with the rainbow surprise cake!Taste for Yourself: taste.md/2MXZHTW

Posted by Tastemade on Wednesday, June 27, 2018