Mini Chicken Fajita Empanadas
Is there anything we can't do with a tortilla? We've fashioned it into vast, almost grotesque wraps. We've made it into boats. We've made little triangles out of it, sacrilegiously stuffing them with cheese steak mix and simultaneously irking the populations of Mexico, Indian and Philadelphia. As for these little beauties, they do admittedly bear a mild resemblance to dumplings, but to us they are something new entirely. Enjoy, responsibly.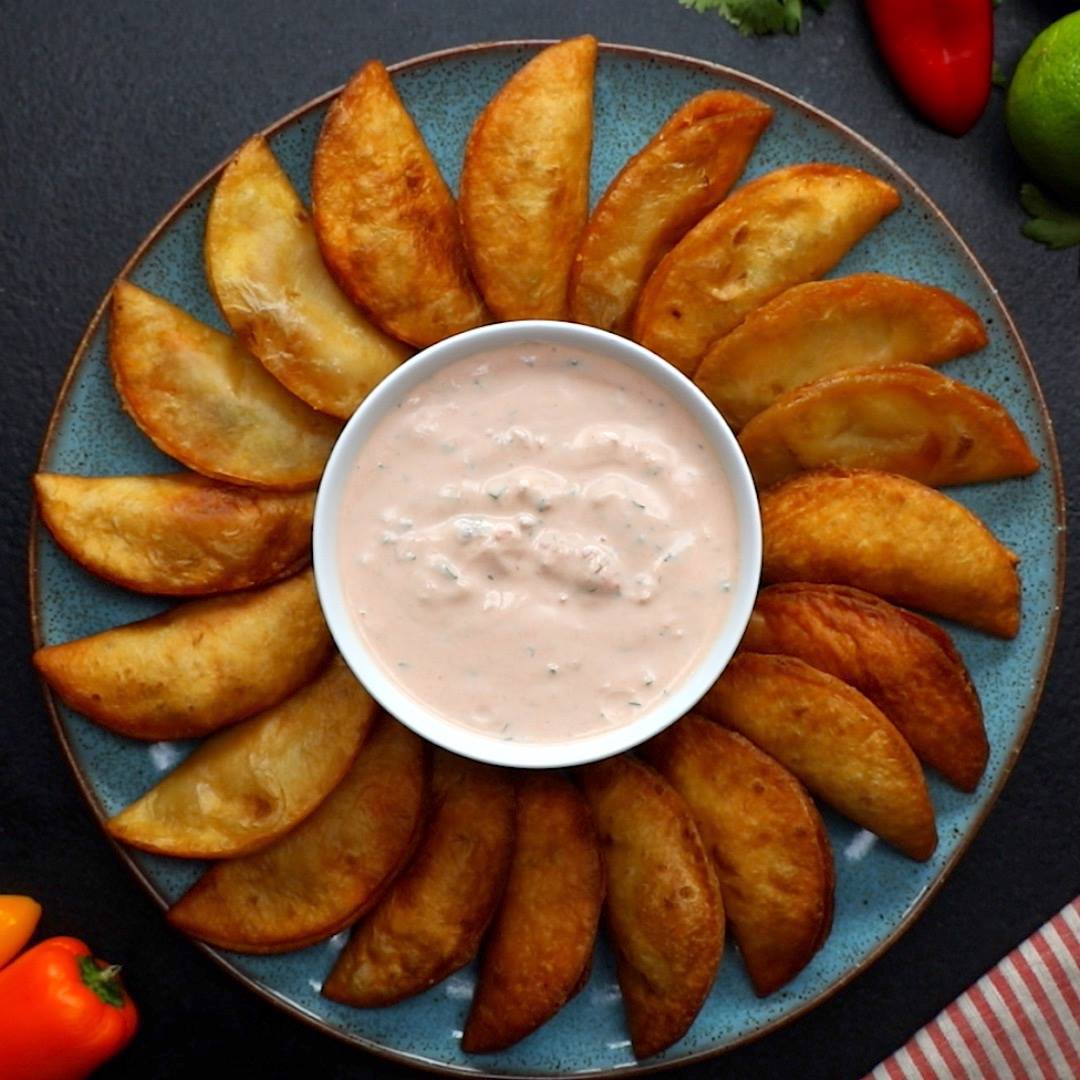 Ingredients
3 chicken breasts
1 onion, finely sliced
3 mixed peppers, finely diced
3 tbsp fajita seasoning
1 tsp salt
2 tbsp groundnut oil
8 large tortilla wraps
¼ cup plain flour
¼ cup water
Grated cheddar
Dip
300ml sour cream
100g salsa
1 tbsp chopped chives
1 tbsp finely chopped coriander
2 cloves garlic, finely crushed
1 tsp black pepper
1 tsp salt
Instructions
Set the grill to high.
Pop the chicken, onion and peppers on a large baking tray. Sprinkle with the seasoning and salt then add the oil and toss everything together to combine.
Grill until the chicken and peppers are cooked through and slightly charred. Shred the chicken into small pieces using a pair of forks.
Use a large cookie cutter to cut circles from the tortilla - the large tortillas should yield about three circles.
Whisk together the flour and water and paint this around the rim of half of each of the circles.
Sprinkle cheddar onto the circles and top with a spoonful of the chopped fajita mix. Fold over the circle of tortilla to enclose the filling and make a semi circular dumpling shape. Press the sides together to seal.
Heat the oil to 170°C/340°F. Fry the tortilla dumplings in batches until crisp and golden. Remove to a kitchen towel lined sheet to soak up any excess oil.
Whisk together the ingredients for the dip and serve them all together. Yum!
Watch the recipe video here:
Mini Chicken Fajita Empanadas

Posted by Twisted on Wednesday, June 27, 2018