One-Pan Shrimp Fajitas
Dinner with only one pan, you'll be a fan!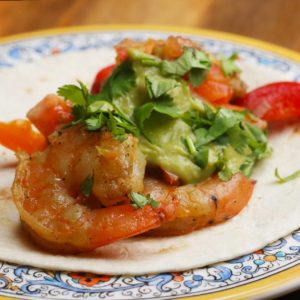 Ingredients
5 flour tortillas
½ red bell pepper, sliced
½ green bell pepper, sliced
½ orange bell pepper, sliced
½ red onion, sliced
1 teaspoon salt
½ teaspoon pepper
1 teaspoon garlic powder
1 teaspoon cumin
1 lime, juiced
Salsa
Guacamole
Instructions
Preheat oven to 400°F/200°C.
Wrap the tortillas in foil and place on the corner of a baking sheet.
Add the bell peppers, red onion, and shrimp to the sheet and season with olive oil, salt, pepper, garlic powder, cumin, and lime.
Toss to coat.
Place in the oven and bake for 10 minutes, flipping the shrimp halfway through.
Serve with warm tortillas, salsa, guacamole, cilantro, and lime.
Enjoy!
Watch the recipe video here: