Chocolate Sablés with Date Sugar
Grating the chocolate bar into shards helps give structure to the cookies; once the cookies cool, the chocolate will hold them together, but the sables will still melt on your tongue.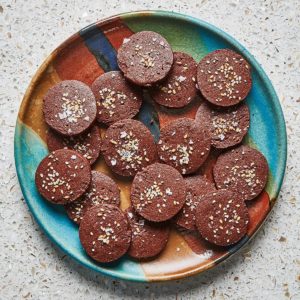 Ingredients
1 ounce bittersweet dark chocolate (60–70% cacao)
¾ cup all-purpose flour
¼ cup Dutch-processed cocoa powder
½ teaspoon kosher salt
¼ teaspoon baking soda
¾ cup date sugar
10 tablespoons unsalted butter, room temperature
2 large egg yolks
1 teaspoon vanilla extract
1 tablespoon mixed golden flaxseeds, brown flaxseeds, sesame seeds, and/or hemp seeds
½ teaspoon flaky sea salt
Instructions
Grate chocolate using the large holes of a box grater. Whisk flour, cocoa powder, kosher salt, and baking soda in a medium bowl.
Using an electric mixer on medium-high speed, beat sugar and butter in a large bowl, scraping down sides occasionally, until butter lightens and looks creamy, about 4 minutes. Beat in egg yolks one at a time, beating well between additions. Beat in vanilla and 1 tsp. water. Reduce mixer speed to low and beat in dry ingredients, scraping down sides occasionally, until just combined. Beat in chocolate. Increase speed to medium and beat 30 seconds (this will help develop gluten in the flour, lending a less crumbly texture to the cookies).
Transfer dough to a large sheet of parchment paper or plastic wrap. Form dough into a log about 2" thick. Chill until firm, at least 45 minutes.
Preheat oven to 350° and line a rimmed baking sheet with parchment. Slice dough with a serrated knife into coins that are a generous ¼" thick. Transfer to prepared baking sheet. Mix seeds and sea salt in a small bowl; sprinkle over cookies.
Bake cookies until edges are firm and tops are mostly firm but give just slightly when pressed, 11–13 minutes. Let cool.
Do Ahead: Dough can be made 3 days ahead; keep chilled. Sables can be made 4 days ahead; store in an airtight container at room temperature.
Watch the recipe video here: