Giant Valentines Strawberry Eclair
Treat your lover to this enormous eclair. Incorporating traditional Valentines ingredients of strawberries and chocolate, it's all about to get very sexy.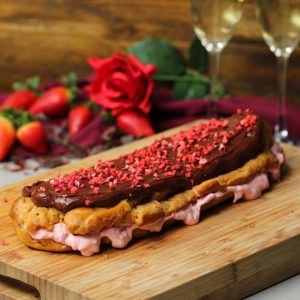 Ingredients
220ml water
85g butter
105g plain flour
¼ tsp salt
3 eggs, beaten
750g strawberries, hulled and quartered
30g sugar
Juice of ½ lemon
400ml double cream
70g icing sugar
300g dark chocolate, finely chopped
150ml double cream
Freeze dried strawberries, to serve
Instructions
Add the water and butter to a small saucepan. Bring to a boil, allowing the butter to pool in the centre of the saucepan, then remove from the heat
Sift the flour with the salt and tip into the water butter mixture. Beat vigorously over the heat until you have a smooth mixture. Tip this mixture into a food processor and allow to cool slightly.
Blitz the mixture in the food processor and gradually pour in the eggs (you might not need all of them!) until you have a luscious shiny mixture. When you tip some off a spoon it should have a reluctant dropping consistency.
Pop the mixture into a piping bag and cut a large hole.
Bake at 200C/400F for 35 mins. Poke holes in either end, turn the temperature down to 150C/300F and return to the oven for 20 further mins. Place on a wire rack to cool.
Add the strawberries into a large pan with the sugar and lemon juice. Simmer and allow the strawberries to break down and form a thick compote, about 10 mins. Leave to cool completely.
Put the cream and icing sugar in a large bowl and whisk into stiff peaks with a hand mixer. Add the cold strawberry compote, and whisk again until it is of piping consistency.
Heat the cream in a small saucepan, then pour over the dark chocolate in a heatproof bowl. Leave to sit for 2 mins before stirring to combine into a smooth ganache.
Cut the eclair in half lengthways and pipe in the strawberry cream mix.
Put the top of the eclair on top. Pipe the chocolate ganache over the top of the eclair and sprinkle with the freeze-dried strawberries. Serve!
Watch the recipe video here: