Chicken Tikka Masala Dip
If you like buffalo chicken dip, you'll love this super creamy version of chicken tikka masala. Thanks to the cream cheese, its tangier than traditional tikka masala. Don't use Greek yogurt—it's too chalky and astringent for this. Pulsing the chicken and yogurt helps tenderize everything and makes it scoopable. For a more flavorful twist, try chicken thighs instead of breasts. Serve this at your next party and blow everyone away.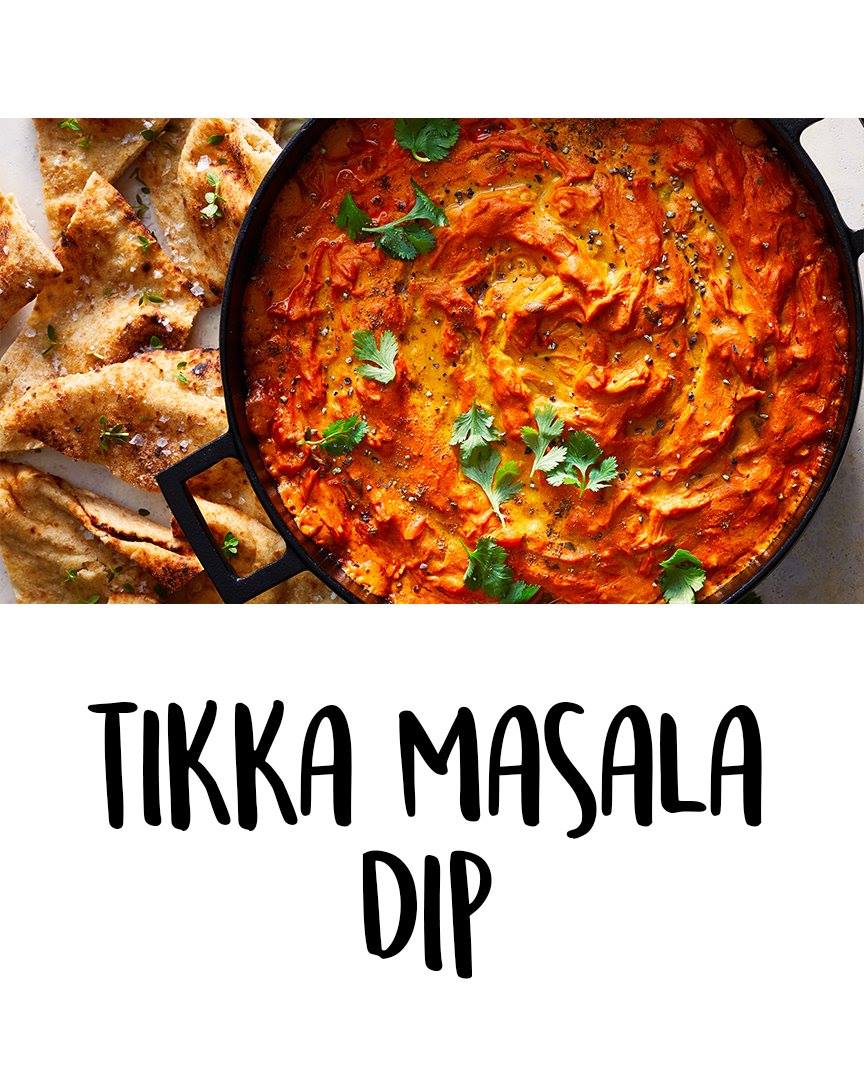 Ingredients
3 teaspoons ground turmeric
1½ teaspoons garam masala
1½ teaspoons ground coriander
1½ teaspoons ground cumin
½ teaspoon crushed red pepper
5 garlic cloves, grated (2 tsp.)
1½ pounds boneless, skinless chicken breasts, cubed
¾ cup plain whole-milk yogurt
2 teaspoons kosher salt, divided
3 tablespoons unsalted butter
1 cup very finely chopped yellow onion (from 1 [4-oz.] onion)
3 tablespoons tomato paste
1 (15-oz.) can tomato puree
2¼ cups (18 oz.) cream cheese, softened
⅔ cup chopped fresh cilantro, divided Miniature rice cakes or naan chips, for serving
Instructions
Preheat oven to 375°F. Stir together turmeric, garam masala, coriander, cumin, crushed red pepper, and garlic in a small bowl. Pulse chicken and yogurt in a food processor until meat is shredded, 6 to 8 times. Stir in 1 teaspoon of the salt and half of the turmeric-spice mixture. Set aside.
Cook butter in a large Dutch oven over medium-high until foamy. Stir in onion, tomato paste, and remaining 1 teaspoon salt. Cook, stirring occasionally, until onion softens and tomato paste begins to brown, about 4 minutes. Stir in remaining turmeric-spice mixture; cook, stirring often, until very fragrant, 4 to 5 minutes. Add tomato puree; increase heat to high, and bring to a boil. Stir in chicken-yogurt mixture; simmer 2 minutes. Remove from heat; let cool 10 minutes. Stir in cream cheese and ½ cup of the cilantro.
Transfer mixture to a 2-quart round baking dish. Bake in preheated oven until bubbly and lightly browned, 25 to 30 minutes. Let cool 10 minutes.
Sprinkle with remaining cilantro. Serve with rice cakes and/or naan chips.
Watch the recipe video here:
It's a flavor explosion in this appetizer your guests will love.GET THE RECIPE: https://trib.al/QA2l0YW (via Well Done)

Posted by MyRecipes on Monday, July 15, 2019