Bell Pepper Meatloaves
Not your mom's meatloaf.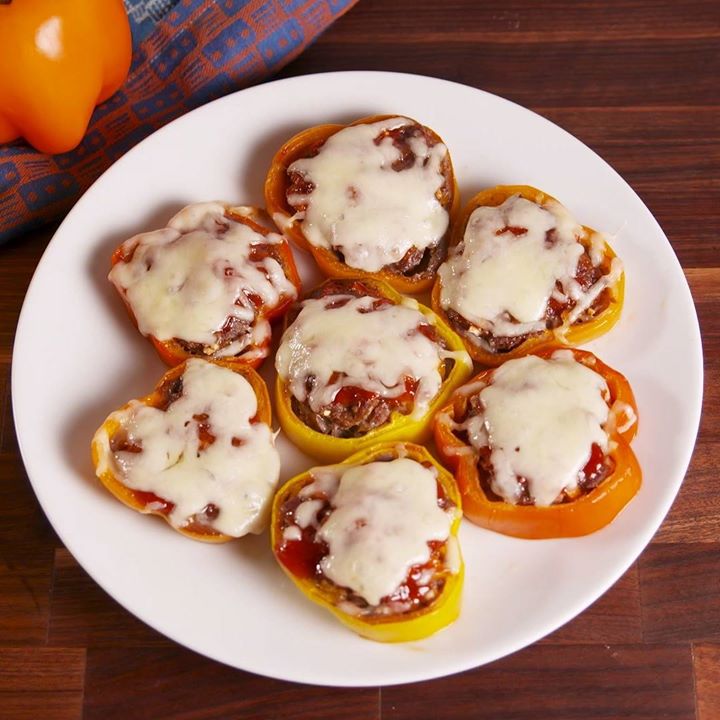 Ingredients
3 bell peppers
1 lb. ground beef
¼ c. bread crumbs
1 Egg, lightly beaten
1 tsp. Worcestershire sauce
½ Onion, finely chopped
½ tsp. fresh thyme leaves, chopped
1 clove garlic, minced
1 tbsp. tomato paste
kosher salt
Freshly ground black pepper
¼ c. ketchup
1 tbsp. brown sugar
2 c. Shredded Monterey Jack
1 tbsp. Fresh parsley, for garnish
Instructions
Preheat oven to 350° and line a medium baking sheet with parchment paper. Cut ends off peppers and set aside. Remove seeds and slice peppers into 2" thick rings. Place on prepared baking sheet.
In a large bowl, combine beef with bread crumbs, egg, Worcestershire sauce, onion, thyme, garlic and tomato paste. Season with salt and pepper and stir until combined. Fill each pepper with meatloaf mixture.
In a small bowl, whisk together ketchup and brown sugar and brush on tops of meatloaf. Bake for 35 minutes, then top with cheese, and bake 5 to 10 minutes more, or until cheese is melty. Garnish with parsley and serve.
Watch the recipe video here: