Mary Pat's Tuna Melt
This sandwich gets a crunchy finish with chips embedded into the bread. I use very special potato chips that were sent to me from Pennsylvania by my dear friend, MP. But if you can't find Utz®, your favorite chip will work just fine. Serve with more chips and pickles.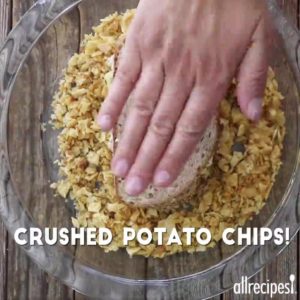 Ingredients
1 (5 ounce) can olive-oil packed tuna, undrained
¼ cup mayonnaise
1 teaspoon Dijon mustard
1 dill pickle, chopped
2 tablespoons minced red onion
4 slices rustic whole-grain bread
4 slices Irish Cheddar cheese
2 tablespoons whipped cream cheese, divided
1 cup coarsely crushed potato chips (such as Utz®)
2 tablespoons mayonnaise, divided
Instructions
Mix tuna, ¼ cup mayonnaise, and Dijon mustard together in a small bowl. Stir in pickle and red onion. Spread tuna mixture on 2 slices of bread. Top each with 2 slices of Cheddar cheese.
Spread 1 tablespoon cream cheese on each of the remaining 2 slices of bread. Place on top of the Cheddar cheese.
Place crushed chips in a shallow bowl. Spread top side of each tuna melt with 1½ teaspoon mayonnaise and press into the chips. Repeat on other side.
Heat a dry grill pan over medium-high heat. Toast tuna melts until golden brown, about 2 minutes per side.
Watch the recipe video here: