Half Baked Ice Cream Bombs
Take "ooey-gooey" to the next level with these half baked ice cream bombs.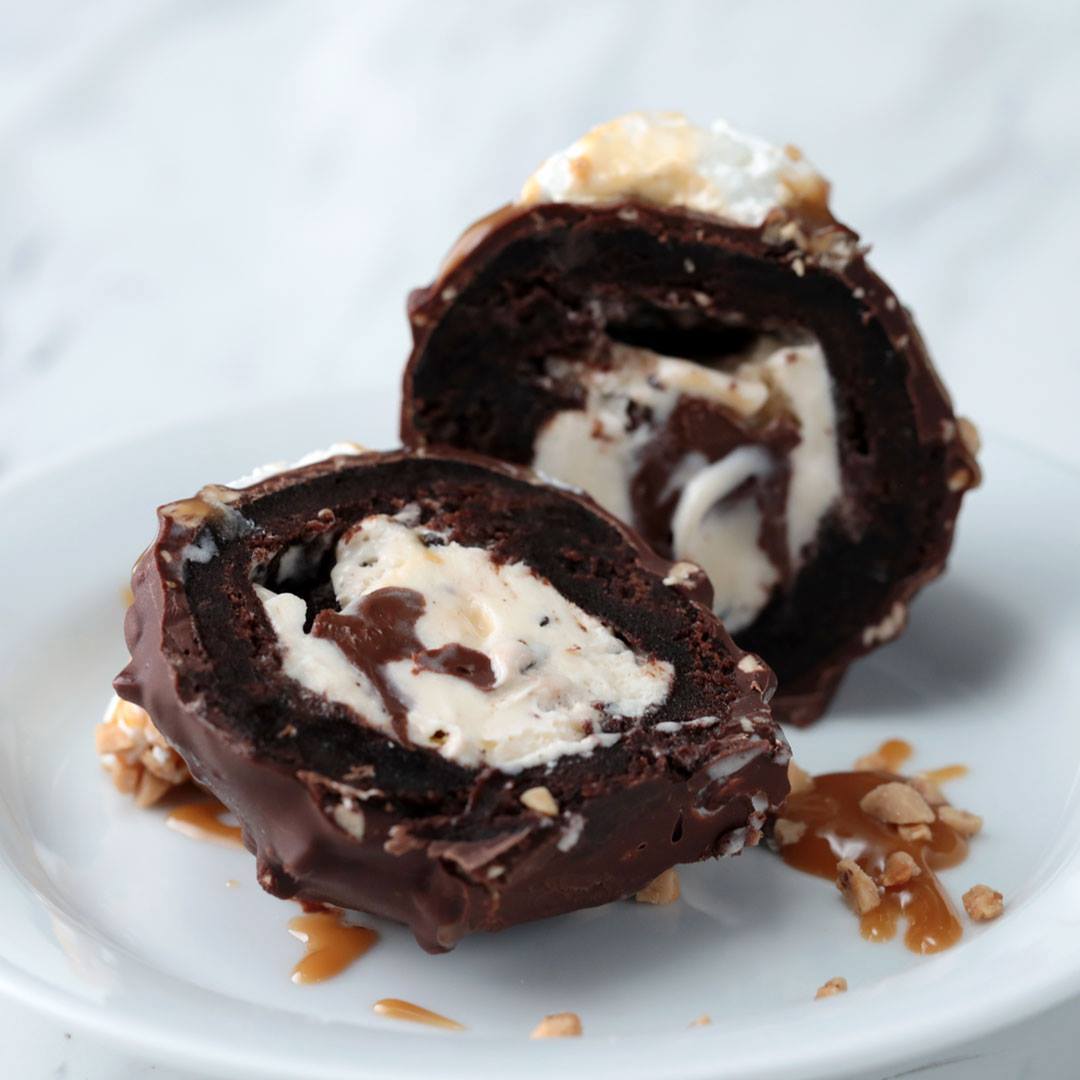 Ingredients
1 pan of boxed brownies, prepared according to package directions
1 pint cookie dough ice cream
½ cup chocolate hazelnut spread
12 ounces semisweet chocolate chips
⅓ cup coconut oil
½ cup toffee bits
Whipped cream
Caramel drizzle
Instructions
Line a muffin tin with 6 individual pieces of plastic wrap. Remove whole baked brownie from the pan and place on a cutting board. Trim off crisp edges. Cut into 6 equal rectangles. Using a rolling pin, gently roll out the brownie squares so that each is about ¼ inch thick. Press into plastic wrap muffin tins, leaving overhang on the sides.
Working quickly, scoop out 6 portions of ice cream and place into brownies. Use a spoon to make a small indentation in the center of each ice cream scoop. Spoon about a tablespoon of chocolate hazelnut spread into each. Use the plastic wrap to help you wrap the brownie overhang over the top. Place pan in the freezer for at least 3 hours or overnight.
In a microwavable medium mixing bowl, melt the chocolate chips and coconut oil in the microwave in 15-second increments, stirring between each until the chocolate is fully melted. Stir in the toffee bits.
Prep a baking pan with wax paper. Remove the frozen brownie bombs from the freezer, and dip each brownie-coated ice cream ball into the melted chocolate mixture until thoroughly coated. Once coated, place on wax paper and chill in the freezer until chocolate has set. Serve with whipped cream and caramel sauce. The ice cream bombs will keep in the freezer for up to 3 months.
Watch the recipe video here:
Oh honey, you dropped something – your jaw.Taste for Yourself: taste.md/2G5wRfW

Posted by Tastemade on Sunday, June 17, 2018