Egg-In-Hole Layered Breakfast Bake
Egg-In-Hole Layered Breakfast Bake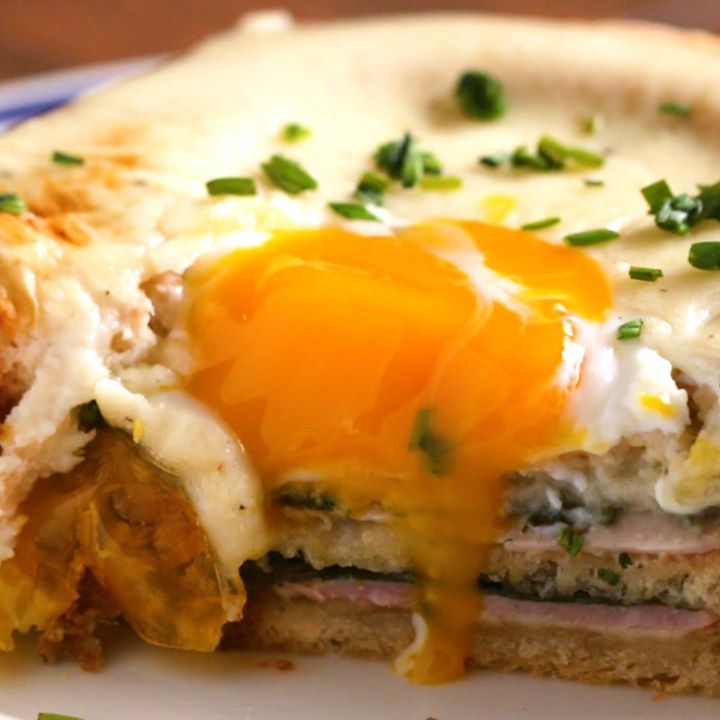 Ingredients
18 slices bread, white sandwich bread
3 tablespoons butter, softened
18 slices swiss cheese
12 slices ham
4 cups spinach (160 g)
6 eggs
chives, chopped, to serve
BÉCHAMEL SAUCE
2 tablespoons butter
3 tablespoons flour
2 cups milk
1 teaspoon salt
½ teaspoon pepper
1 pinch ground nutmeg
2 cups gruyère cheese, grated (220 g)
2 cups grated parmesan cheese (220 g)
Instructions
Preheat the oven broiler to high. Line a baking sheet with parchment paper.
On a cutting board, butter all the sandwich bread and transfer to the prepared baking sheet.
Using a glass, cut out the centers of 6 slices of bread.
Toast the bread under the broiler for 5 minutes, or until toasted. Keep a close eye on it so it doesn't burn.
Reduce the oven temperature to 350˚F (180˚C).
Make the Béchamel sauce: Melt the butter in a small saucepan over medium heat. Add the flour and whisk until it darkens slightly.
Add the milk and whisk to combine. Reduce the heat to low and simmer until reduced by half.
Remove the pot from the heat and add the salt, pepper, nutmeg, Gruyère, and Parmesan and stir until fully incorporated.
Line a 9 x 13-inch baking dish with parchment paper.
Lay 6 pieces of toast in the bottom of the dish. Top with 9 slices of Swiss cheese, 6 slices of ham, and 2 cups of spinach. Repeat to make another layer and top with the hollow-centered toast.
Crack an egg into each hole. Carefully ladle the Béchamel sauce over the bake, leaving the yolks exposed.
Cover and bake for 35 minutes, then uncover and bake for 10 minutes more, until the eggs are cooked to your liking and the Béchamel is starting to brown in spots.
Slice and serve garnished with chives, if desired.
Enjoy!
Watch the recipe video here: