Loaded Boneless Wings
Apply your nacho-building skills to boneless wings for a killer snack.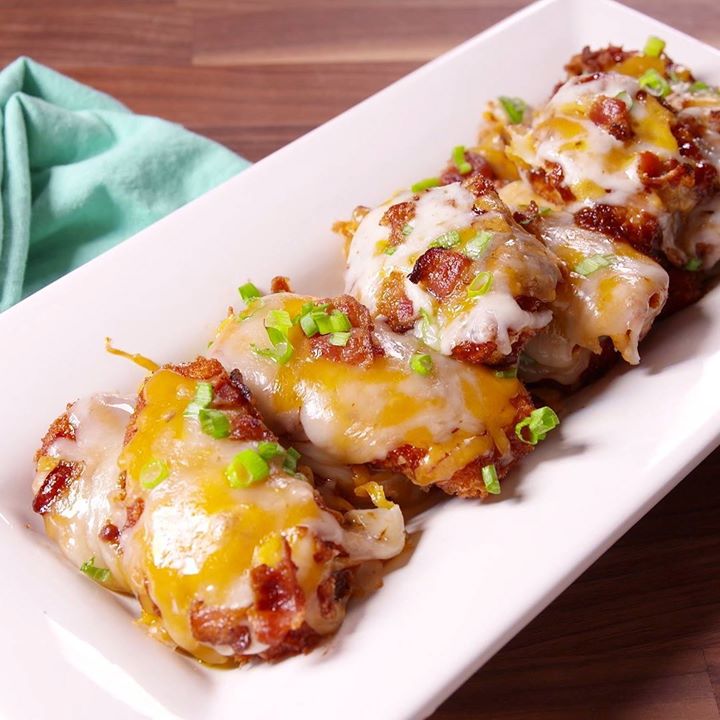 Ingredients
1 c. all-purpose flour
2 lb. chicken tenders
2 c. panko bread crumbs
3 large eggs, beaten
kosher salt
Freshly ground black pepper
1 c. barbecue sauce
⅓ c. brown sugar
Juice of 1 lime
1 tsp. garlic powder
1 c. Shredded Monterey Jack
1 c. shredded Cheddar
4 slices bacon, cooked and crumbled
Green onions, for serving
Instructions
Preheat oven to 425°. In a large, resealable Ziploc bag, combine flour and chicken. Shake until fully coated.
Set up a dredging station: In one bowl, add panko bread crumbs and in another bowl, whisk eggs with 2 tablespoons water. Dip chicken in eggs, then in panko until fully coated. Transfer to a parchment-lined baking sheet and season generously with salt and pepper. Bake until golden and crispy, 23 to 25 minutes.
Meanwhile, in a small saucepan over low heat, warm barbecue sauce, brown sugar, lime juice, and garlic powder. Stir to combine.
When the chicken is cooked through, heat broiler. Coat tenders in sauce, then top with cheese, bacon, and green onions. Return to oven and broil until the cheese is melted, 1 to 2 minutes.
Watch the recipe video here: