Chicken Caesar Lettuce Wraps
So fresh, so clean.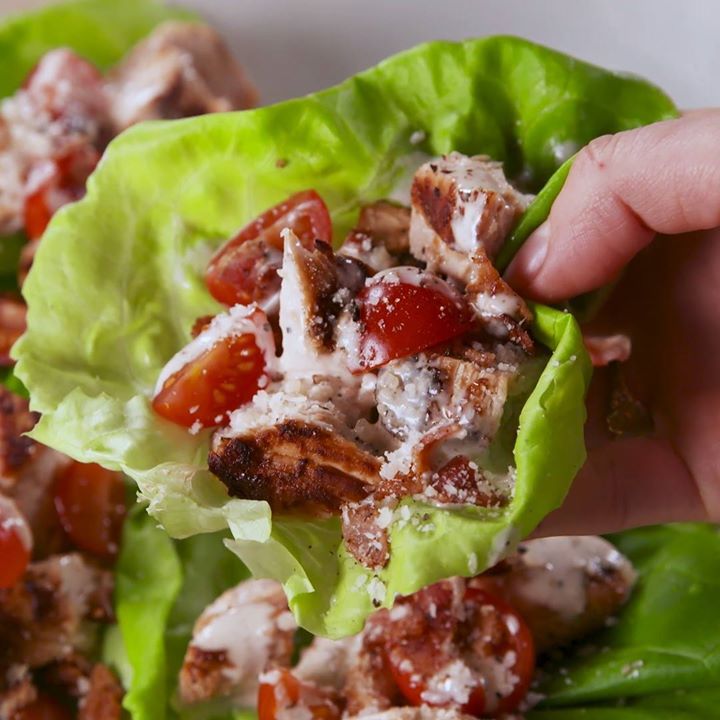 Ingredients
FOR CHICKEN
3 boneless skinless chicken breasts
½ c. Caesar dressing, plus more for garnish
3 tbsp. olive oil, divided
Juice of 1 lemon, divided
Kosher salt
Freshly ground black pepper
FOR LETTUCE WRAPS
9 leaves romaine or butterhead lettuce, for cups
½ c. quartered cherry tomatoes
4 strips bacon, cooked and crumbled
¼ c. freshly grated Parmesan, for garnish
Instructions
In a medium bowl, toss chicken with dressing, 2 tablespoons olive oil, and half of lemon juice. Season generously with salt and pepper, cover with plastic wrap, and let marinate in fridge for at least 30 minutes.
In a large skillet over medium heat, heat remaining oil. Add chicken breasts to skillet and cook until golden and no longer pink, 8 minutes per side. Remove from heat, let rest 5 minutes, then cut into bite sized pieces.
Assemble lettuce wraps: Fill each lettuce cup with chicken pieces, tomatoes, and bacon. Top with a squeeze of lemon, more dressing, Parmesan, and a couple extra cranks of black pepper.
Watch the recipe video here: