Chocolate Banana Pancake Dogs
Bananas and chocolate are a classic combination. These deep fried delicious chocolate bananas are delicious and super easy to make. Keep the bananas covered in chocolate ready in the freezer for whenever you're ready to make these sweet treats!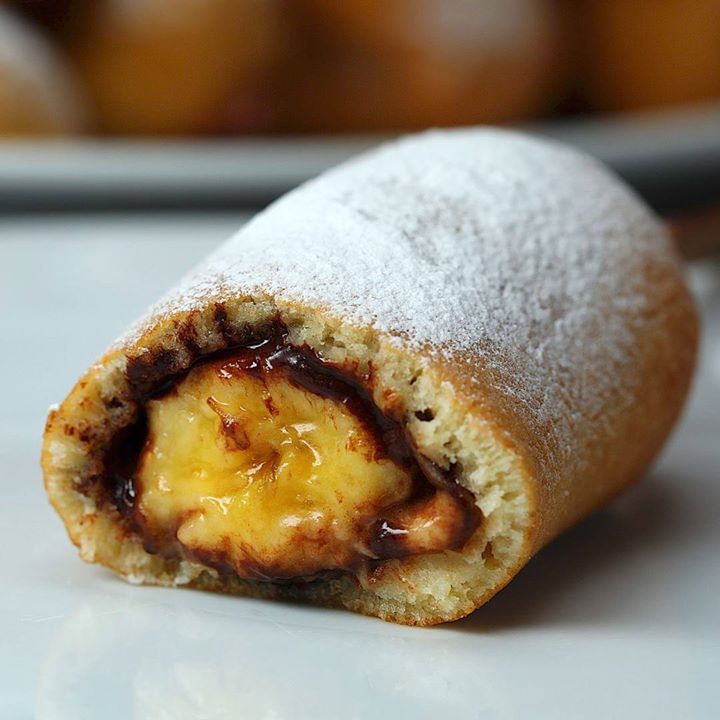 Ingredients
3-4 Ripe bananas, cut in half
300g dark chocolate melted
1 cup pancake mix
¾ cup milk
1 egg
1 tbsp oil
Icing sugar
Oil for frying
Instructions
Dip a popsicle sticks in melted chocolate and then stick into each banana. Spoon over melted chocolate to coat each banana completely. Set on a parchment lined tray and place in the freezer to set for 30 minutes.
Pre-heat oil in a heavy bottom pot for frying to 180ºC. Meanwhile make the pancake batter. Add eggs, water and oil to pancake mix and whisk until smooth.
When chocolate is hardened, dip into the pancake batter to coat evenly. Make sure all the chocolate is covered. Fry until golden brown. Dust with icing sugar and serve.
Enjoy!
Watch the recipe video here:
Chocolate Banana Pancake Dogs

Posted by Twisted on Monday, April 9, 2018