Stuffed Firecracker Chicken Rolls
Stuffed Firecracker Chicken Rolls recipe.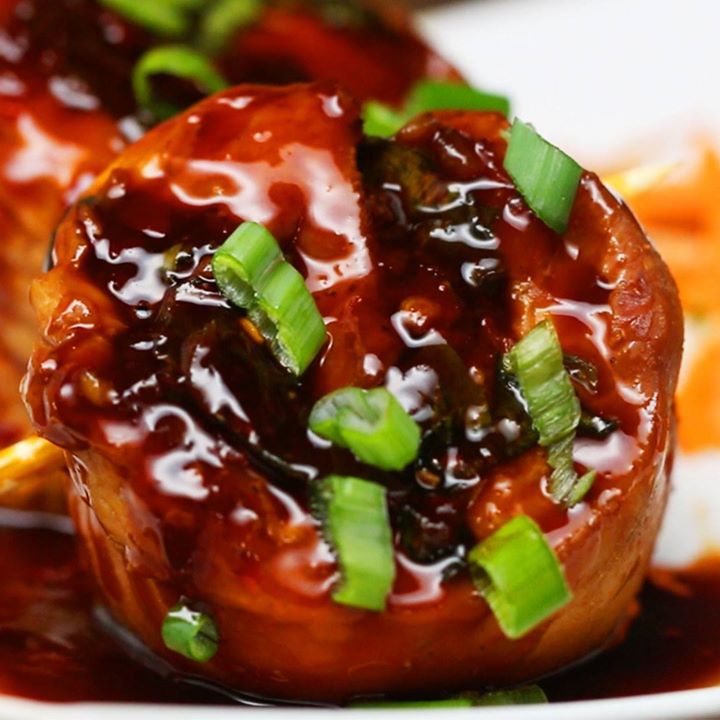 Ingredients
2 cups low sodium soy sauce
⅓ cup buffalo sauce
4 cloves garlic, minced
⅓ cup honey
4 tablespoons sweet chili sauce
1 ½ lb boneless, skinless chicken breast
2 tablespoons olive oil
½ yellow onion, finely diced
2 bell peppers, finely diced
2 cups spinach
Instructions
In a shallow dish or large plastic bag, add the soy sauce, buffalo sauce, garlic, honey, and sweet chili sauce. After mixing, reserve half the marinade in a separate bowl for later.
On a cutting board, slice the chicken breasts horizontally, making sure not to slice all the way through. Cover chicken breast with parchment or plastic wrap and use a mallet to flatten the chicken, about ⅓ inch (8 mm) in thickness.
Place chicken breasts in the marinade and chill for about 2 hours or overnight.
Add 1 tablespoon of olive oil to a large pan over medium heat. Once hot, add garlic and cook until aromatic, about 30 seconds. Add the onion and bell peppers, and cook until soft.
Remove the chicken breast from the marinade and lay flat. Spoon a layer of the onion and the bell pepper mixture across the chicken breast, then add a layer of spinach.
Roll up chicken breast and secure with a toothpick, about 1½ inches (4 cm) apart. Cut the chicken breast in half.
Add 1 tablespoon of olive oil to a large pan over medium heat. Once hot, place chicken rolls inside the pan, cook until inside is no longer pink, about 6 minutes on each side. Remove from pan.
Add reserved marinade to the pan and cook until caramelized, about 3 minutes.
Serve drizzled in caramelized marinade.
Enjoy!
Watch the recipe video here:
Stuffed Firecracker Chicken Rolls

Spice up your life ?!FULL RECIPE: https://tasty.co/recipe/stuffed-firecracker-chicken-rollsDo you want to shop our FAVORITE cookware set? CLICK HERE: http://bit.ly/2FycOXq – We may make some $$ if you buy!

Posted by Tasty on Wednesday, January 31, 2018