Cheesy Stuffed Dough Ball Chilli Pie
A big bowl of chili is a super comfort food for us. This chili recipe is one pot, easy and delicious. We topped it with cheese stuffed doughballs to dip right into the chili. Fill the dough balls with any cheese you like or just keep them coated in garlic butter. Either way, this is a crowd pleaser!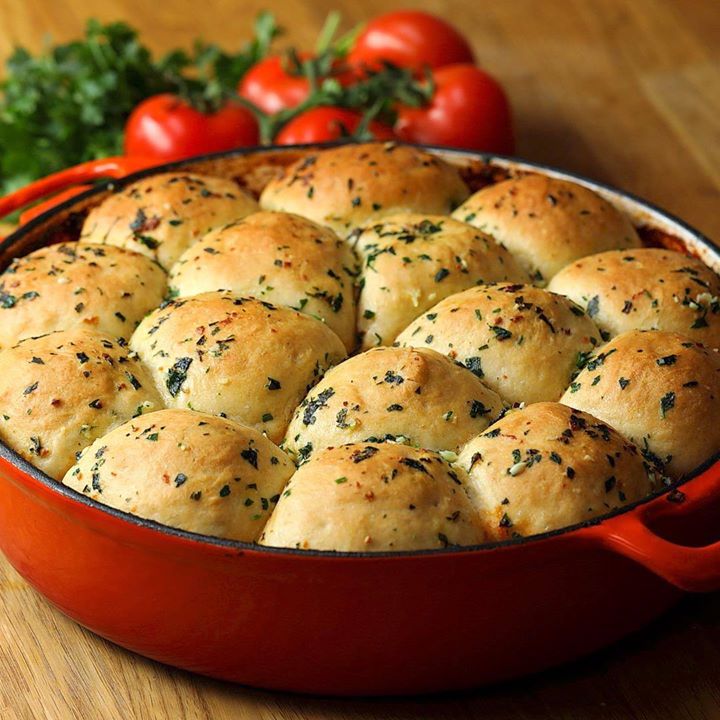 Ingredients
1 lb beef mince
1 white onion, diced
3 cloves garlic, minced
1 tsp paprika
1 tsp cayenne pepper
1 tsp cumin powder
1 tbsp oil
1 tsp salt
1 tsp pepper
1 tbsp tomato paste
1 cup beef stock
1 can chopped tomatoes
1 tbsp brown sugar
1 can drained kidney beans
500g pizza dough
Cubed mozzarella
½ cup Garlic butter
Instructions
In a large skillet heat oil over medium heat. Add onions and garlic and cook until softened and aromatic. Add beef mince breaking apart with a spoon. Cook until browned.
Add all spices and tomato paste and stir to coat well. Stir in beef stock, chopped tomatoes and brown sugar. Add kidney beans and bring to a boil. Reduce to a simmer and cover with a lid. Cook for 40 minutes until thickened.
Pre-heat oven to 180ºC (350ºF).
Separate dough into 45g balls. Flatten out and place one cube of mozzarella cheese inside. Bring up sides over mozzarella and pinch to seal.
Arrange cheese filled dough balls over the chilli mixture. Brush generously with garlic butter. Bake in the oven for 30 minutes until buns are golden brown.
Enjoy!
Watch the recipe video here: