Chicken Fajita Slab Pie
Fajitas meet pies in one of the most glorious double acts to grace the culinary stage. Glorious flaky pastry and creamy, spicy, cheesy chicken. It's the one.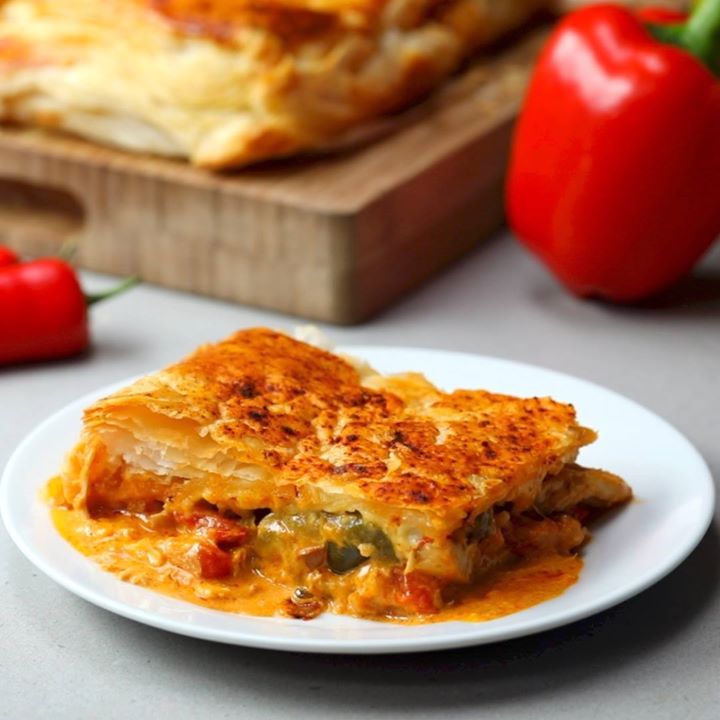 Ingredients
2 tbsp oil
1 onion, sliced
4 - 5 mixed peppers, sliced
3 cloves garlic, minced
4 chicken breasts, shredded
1 packet fajita seasoning
500ml double cream
2 large sheets puff pastry
4 cups grated cheddar
1 egg, beaten
Paprika
Instructions
Preheat the oven to 180°C/360°F.
Heat the oil in a large heavy bottomed saucepan and fry the onion and peppers until soft, then add the garlic and cook for a minute or so more.
Add the shredded chicken and the fajita spices and stir everything together, then pour in the cream and stir everything together.
Lay one of the big sheets of pastry on a lined baking tray and top it with the creamy fajita mix. Leave a little gap around the edges to stick the pastry lid on top. Scatter the cheese on top of the mix.
Brush around the edge with the beaten egg and stick the lid on top, then brush the whole thing with egg and sprinkle with paprika.
Bake for 40 - 50 minutes (until the pastry has turned a lovely golden colour).
Watch the recipe video here:
Chicken Fajita Slab Pie

Posted by Twisted on Wednesday, April 18, 2018