DIY Ramen Soup
This jarred version of ramen soup is a healthier alternative than most commercial varieties. Play favorites with the veggies to suit your taste.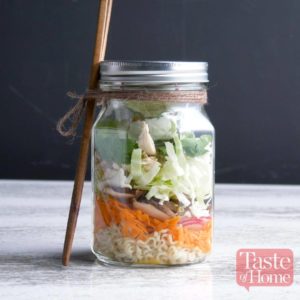 Ingredients
1 package (3 ounces) ramen noodles
1 tablespoon reduced-sodium chicken base
1 to 2 teaspoons Sriracha chili sauce
1 teaspoon minced fresh gingerroot
½ cup shredded carrots
½ cup shredded cabbage
2 radishes, halved and sliced
½ cup sliced fresh shiitake mushrooms
1 cup shredded cooked chicken breast
¼ cup fresh cilantro leaves
1 large hard-boiled egg, halved
2 lime wedges
4 cups boiling water
Instructions
Cook ramen according to package directions; cool.
In each of two 1-qt. wide-mouth canning jars, divide and layer ingredients in the following order: ramen noodles, chicken base, chili sauce, ginger, carrots, cabbage, radishes, mushrooms, chicken and cilantro. Place egg and lime wedge in 4-oz. glass jars or other airtight containers. Cover all four containers and refrigerate until serving.
To serve, pour 2 cups boiling water into each 1-qt. glass jar; let stand until warmed through or until chicken base has dissolved. Stir to combine seasonings. Squeeze lime juice over soup and place egg on top.
Watch the recipe video here: