Upside Down Chicken Parm Mug Pies
Redefining a "hug in a mug", Twisted is proud to present our most convenient comfort food yet! Perfectly portioned and easy to prepare, these individual chicken parm pot pies make for a show-stopping centerpiece that no one is going to forget in a hurry. You'll never look at mugs in the same way again.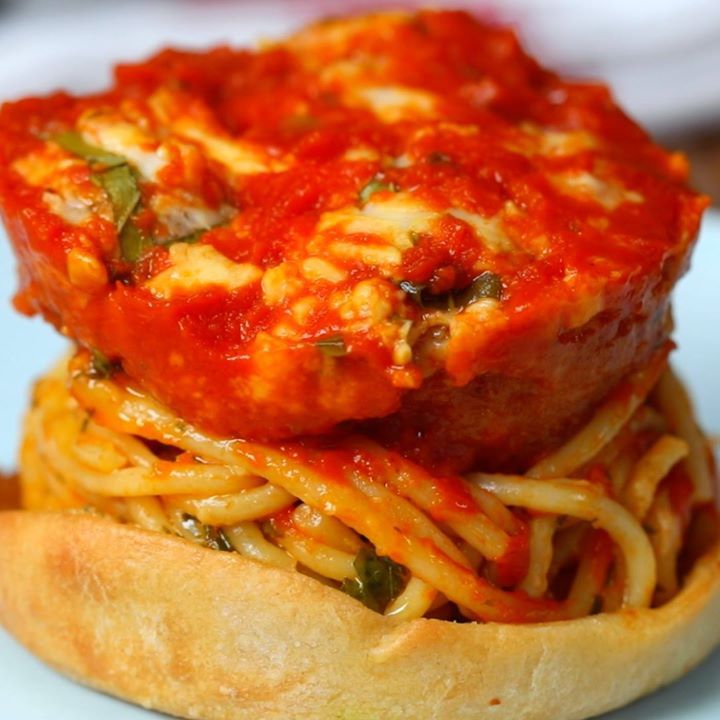 Ingredients
Frozen chicken nuggets
1 cup Pasta Sauce
1 cup grated mozzarella
2 tbsp chopped basil
250g dry spaghetti, cooked
¾ cup butter, melted
3 cloves garlic minced
¼ cup finely chopped parsley
Pizza Dough rolled and cut into 4 " rounds
Instructions
Pre-heat oven to 180ºC (350ºF).
Cook 12 chicken nuggets according to the package. Set aside
Mix together butter, garlic, and parsley. Toss the cooked spaghetti in ¾ of the garlic butter.
In a wide rimmed mug add two tablespoons of pasta sauce followed by mozzarella, basil, mozzarella, 3 chicken nuggets, 1 tbsp pizza sauce and enough spaghetti to fill the cup. Brush the rim of the mug with a bit of oil. Top with a round of pizza dough and press to adhere to the sides of the mug.
Brush with garlic butter and bake for 20 minutes until cheese is melted and pizza dough is golden brown.
Flip upside down onto a plate. Use a knife to release the dough from the mug and life up. The contents should fall nicely into the bread bowl.
Enjoy!
Watch the recipe video here: