Glazed French Toast Cinnamon Swirl
A giant French toast cinnamon roll is the perfect centrepiece for family brunch. Satisfy the sweet-tooths at the table with this show stopper. Easy to make and takes like cinnamon buns!!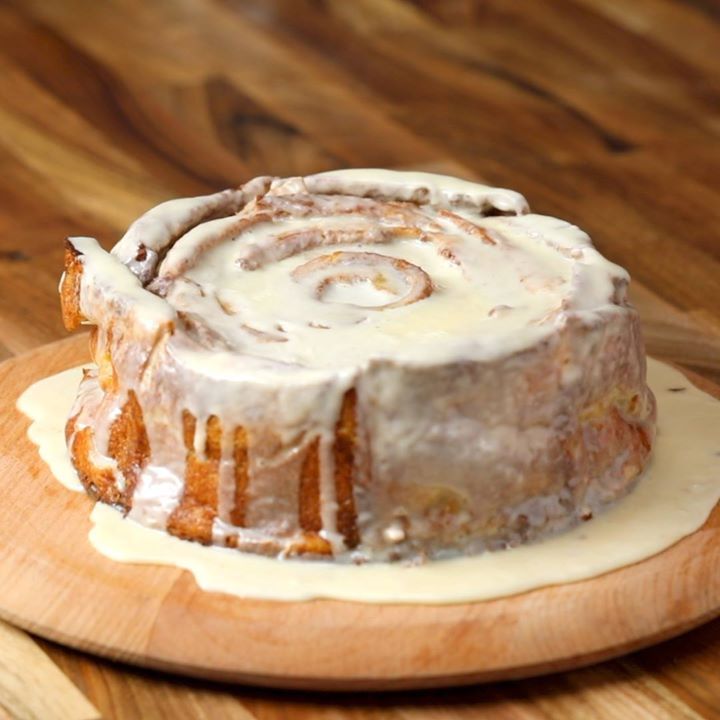 Ingredients
16 slices white bread, crusts off
¾ cup softened butter
¾ cup dark brown sugar
3 tsp cinnamon
3 eggs
1 cup cream
¼ cup milk
2 tbsp sugar
1½ tsp vanilla
1 cup icing sugar
2 tbsp melted butter
1 tbsp milk
Instructions
Pre-heat oven to 180ºC (350ºF).
Cut the crusts off all slices of bread. Put four together just slightly overlapping and press the seems together using your fingers to seal. Repeat with remaining bread.
Spread butter evenly over each piece of bread. In a small bowl mix together brown sugar and cinnamon. Sprinkle mixture over the buttered bread and smoothen. Cut each strip of bread in half to create 8 strips. Roll one strip and then put onto the next and continue to roll to form a large spiral.
Place into a butter greased 8-inch removable bottom cake pan.
In a large glass, jug whisk together eggs, cream, milk, sugar and 1 tsp vanilla until smooth. Pour over bread spiral and let soak for 10-15 minutes until completely absorbed.
Bake in the oven for 40 minutes until puffed up, golden brown and cooked through. Cover with foil if it gets dark on top too quickly.
In another jug whisk together icing sugar, milk, melted butter and ½ tsp vanilla.
Remove from cake pan carefully. Pour glaze over while still warm. Enjoy!
Watch the recipe video here: