Chicken Parm Bites
Chicken Parm Bites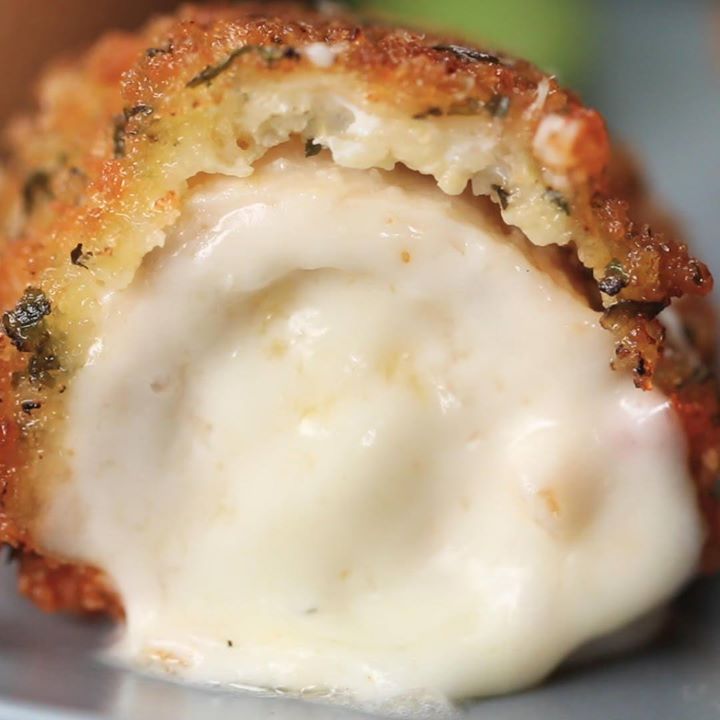 Ingredients
1 lb (455 g) chicken tender
1 ball mozzarella cheese
2 cups (100 g) panko breadcrumbs
1 tablespoon garlic powder
1 tablespoon dried basil
1 tablespoon dried parsley
1 tablespoon salt
½ cup (65 g) flour
2 eggs
oil, to fry
1 cup (255 g) marinara sauce
Instructions
Cut the chicken tenders into 1.5-inch (4-cm) pieces.
Take a knife and carefully cut a hole into the chicken tenders. Make sure to not cut all the way to the other side.
Stuff the holes with mozzarella cheese.
Add garlic powder, dried basil, dried parsley, and salt to the panko bread crumbs.
Batter the chicken in flour, egg, then panko bread crumb mixture.
Add around 1-inch (2-cm) of oil to a pan and heat until around 350˚F (175˚C).
Fry the chicken on both sides until fully cooked and golden brown.
Serve with marinara sauce and garnish with more parmesan cheese.
Enjoy!
Watch the recipe video here:
These chicken parm bites are the perfect finger food! ?FULL RECIPE: https://tasty.co/recipe/chicken-parm-bites

Posted by Tasty on Thursday, March 15, 2018