North African-style Poached Eggs In Tomato Sauce
North African-style Poached Eggs In Tomato Sauce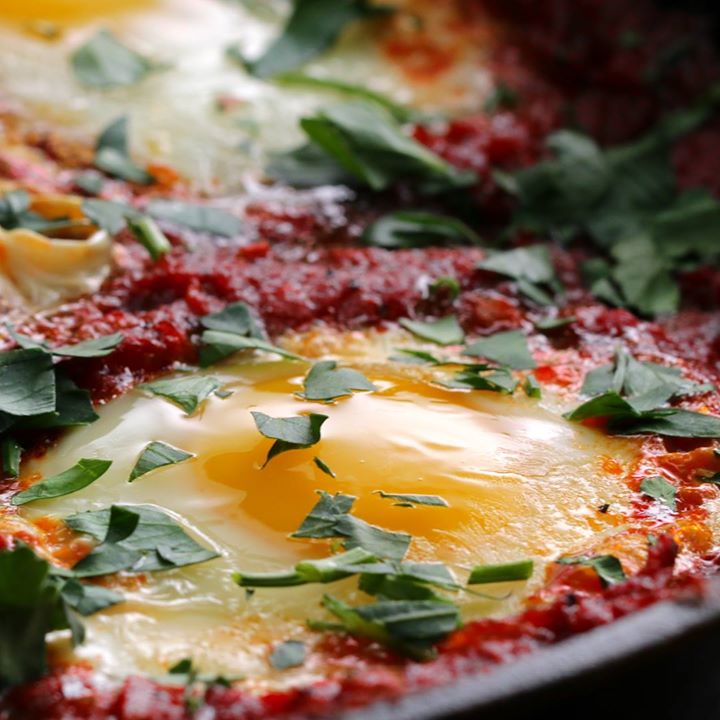 Ingredients
2 tablespoons olive oil
3 cloves garlic, minced
1 medium onion, diced
1 teaspoon salt
1 teaspoon pepper
1 teaspoon turmeric
1 teaspoon paprika
1 teaspoon cumin
2 tablespoons harissa paste
2 tablespoons tomato paste
800 g (28 oz) diced tomato, can
5 large eggs
fresh parsley, chopped, to serve
bread, to serve
Instructions
In a large cast-iron skillet, heat the oil over medium heat.
Add the garlic and onions, cooking until the onions are translucent and the garlic is starting to slightly brown.
Add the spices and harissa paste, cooking the spices until fragrant, about 1 minute.
Add the tomatoes and tomato paste and cook for about 10-15 minutes until the sauce has thickened to the point where pressing down with a spoon leaves an indent that holds its shape.
Taking the back of a large spoon, make 5 large indents into the sauce, using a left-to-right wiggling motion to ensure that the "walls" of the sauce are tall enough to hold an egg.
Crack the eggs into each of the indents, then cook over low heat for about 15-20 minutes until the eggs are cooked to your liking.
NOTE: To speed the process up, cover the skillet with a large lid.
Sprinkle with chopped parsley, remove from heat, and serve with crusty bread to mop up all the sauce.
Enjoy!
Watch the recipe video here: