Thai Chicken Lettuce Cups
Eating healthy isn't so bad!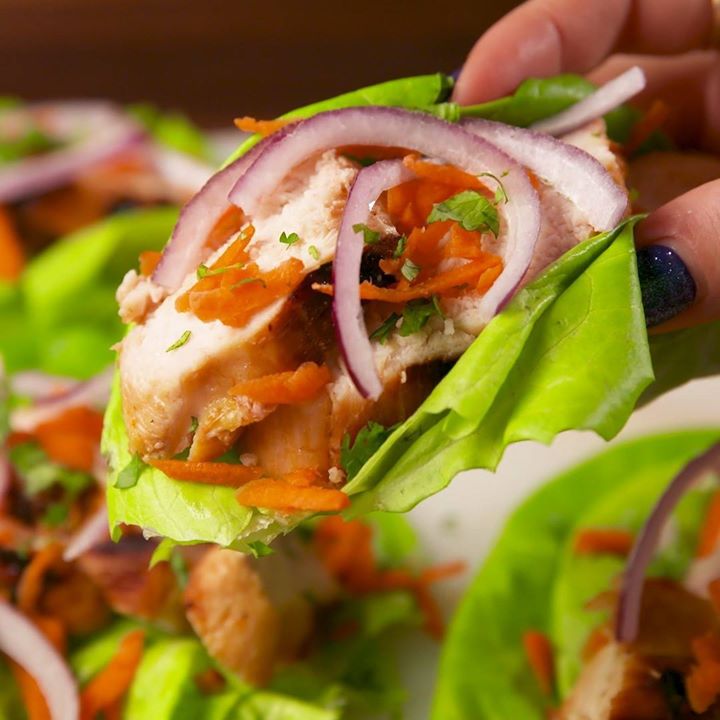 Ingredients
3 chicken breasts
½ c. sweet chili sauce
⅓ c. soy sauce
Juice of 1 lime
3 tbsp. olive oil
1 tbsp. sriracha
2 tsp. freshly grated ginger
2 cloves garlic, minced
12 leaves romaine or butterhead lettuce, for cups
½ red onion, thinly sliced
1 carrot, shredded
1 tbsp. Chopped cilantro
Instructions
In a large bowl, combine chili sauce, soy sauce, lime juice, oil, sriracha, ginger and garlic. Whisk to combine. Add chicken breasts to bowl and toss with marinade.
Heat a large grill pan over medium heat. Add chicken breast and cook until golden with grill marks and no pink remaining, 8 to 10 minutes per side. Transfer to a plate to let rest, then thinly slice.
Build your lettuce cups: fill lettuce cups with chicken and garnish with onions, carrots, and cilantro. Serve.
Watch the recipe video here: