Pizza Pretzels
What's better than a soft, hot pretzel? Try one stuffed with classic pizza toppings!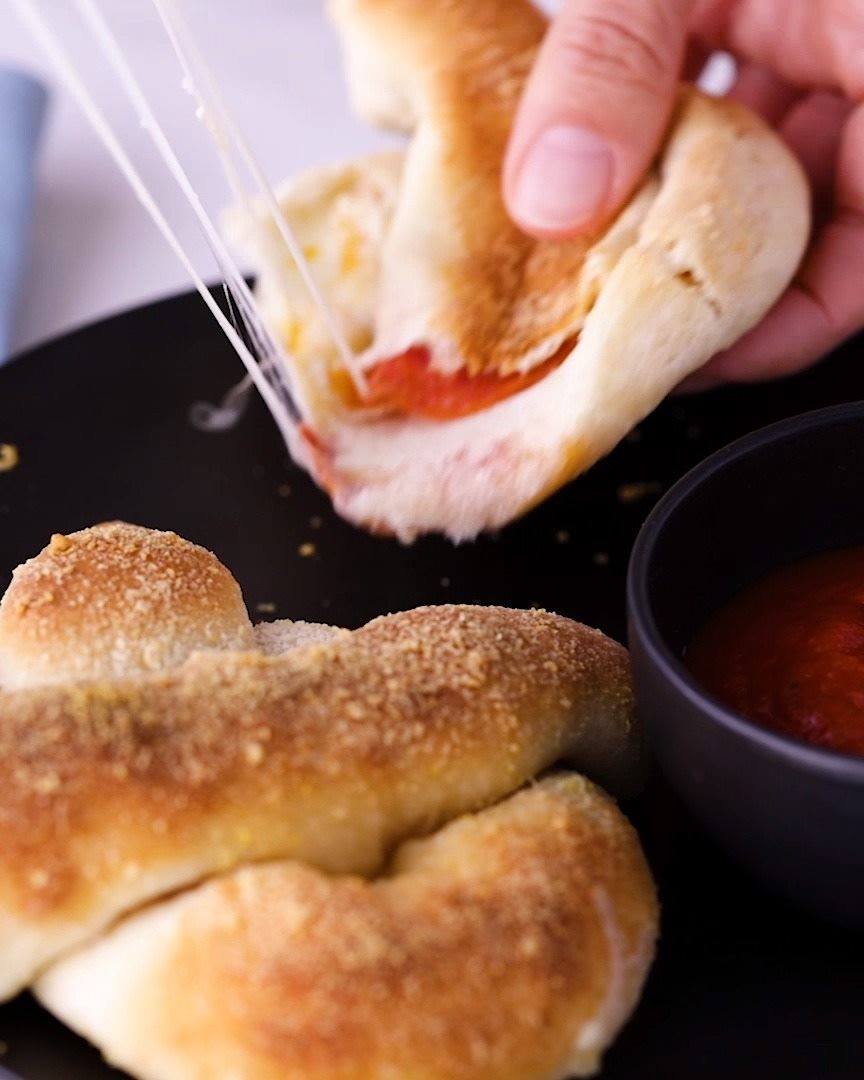 Ingredients
1 tablespoon Crisco® 100% Extra Virgin Olive Oil or Pure Olive Oil
1 tablespoon cornmeal
1 tablespoon Pillsbury BEST® All Purpose Flour
1 can (13.8 oz) Pillsbury™ refrigerated classic pizza crust
28 slices (1½-inch size) pepperoni
8 pieces (1 oz each) mozzarella string cheese
4 teaspoons grated Parmesan cheese
1 cup tomato pasta sauce, heated
Instructions
Heat oven to 425°F. Brush large cookie sheet with ½ tablespoon of the oil. Sprinkle cookie sheet with cornmeal.
Sprinkle flour over work surface. On floured surface, unroll pizza crust dough; starting at center, press dough into 16x10-inch rectangle. With pizza cutter or knife, cut dough lengthwise into 4 (2½-inch-wide) strips.
Evenly place 7 pepperoni slices on each dough strip, leaving ½ inch on each end uncovered. Cut each string cheese in half lengthwise. Place 4 cheese halves on pepperoni on each dough strip, overlapping ends to fit.
Bring up sides of each dough strip over pepperoni and cheese, and tightly pinch together, stretching dough as necessary to fully enclose cheese and pepperoni; pinch ends to seal. Lightly roll and shape into 16-inch logs. To make pretzel shape, form each log into U-shape, then cross the ends and fold dough over so ends rest on bottom of U-shape. Place pretzels on cookie sheet. Brush pretzels with remaining ½ tablespoon oil; sprinkle with Parmesan cheese.
Bake 13 to 17 minutes or until pretzels are golden brown. Serve warm with pasta sauce for dipping.
Watch the recipe video here: