Potatoes Au Gratin
That cream sauce though.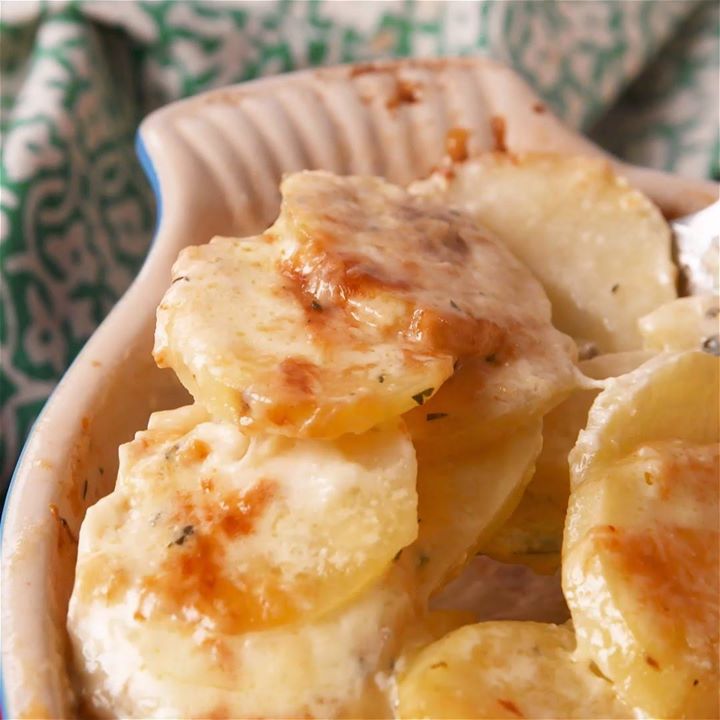 Ingredients
6 russet potatoes, cleaned and peeled
2 tbsp. butter, plus more for pan
2 cloves garlic, minced
1½ c. cream
¼ c. milk
1 tbsp. freshly chopped thyme
pinch of nutmeg
kosher salt
red pepper flakes
1½ c. shredded Gruyere
½ c. freshly grated Parmesan
Instructions
Preheat oven to 375°. Butter a baking dish well and set aside. Slice potatoes ¼" thick and place in water to keep from browning.
Heat butter over medium heat and add garlic. Sauce until fragrant about 1 minute. Add cream, milk, thyme, nutmeg, salt, and red pepper flakes. Bring to a boil and reduce heat to low. Let simmer 10 minutes. Remove from heat.
Layer ⅓rd of potatoes, slightly overlapping, in prepared dish then pour ⅓ of cream mixture over potatoes. Repeat with remaining potatoes and cream to make two more layers. Sprinkle gruyere over top.
Cover with foil and bake for 45 minutes. Uncover, sprinkle with parmesan and continue baking until potatoes are tender and top is golden, 15 to 20 minutes.
Watch the recipe video here:
How To Make Potatoes Au Gratin

Cheesy Potatoes Au Gratin are the side dish that becomes your entire meal.Full recipe: http://dlsh.it/1ysIBaw

Posted by Delish on Tuesday, March 6, 2018