Red Velvet Pancakes
Red Velvet is a cake that many love and pancakes are a breakfast favourite, so why not put the two and two together. These red velvet pancakes taste like the real deal. They're fully and pair perfectly with the cream cheese icing.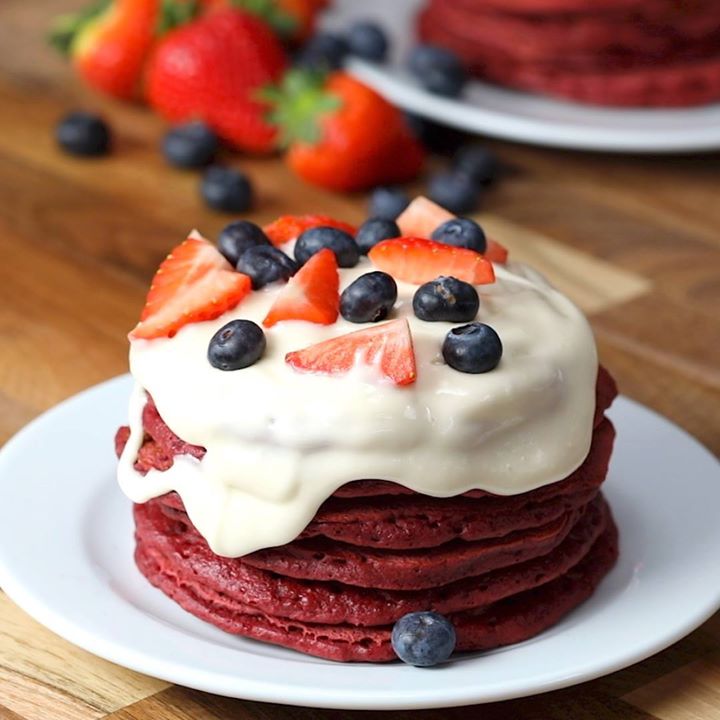 Ingredients
2 cups plain flour
3 tbsp cocoa powder
1 tbsp baking powder
½ tsp baking sofa
¼ tsp salt
1½ cups milk
2 tbsp vinegar
½ cup sugar
2 eggs
1-2 tbsp red food colouring
2 tsp vanilla
⅓ cup butter, melted
Cream cheese glaze:
8 oz cream cheese
⅓ cup butter, softened
2 cups powdered sugar
¼ cup milk
½ tsp vanilla
Instructions
Whisk together flour, baking powder, baking soda, cocoa powder, salt and sugar. Make a small well in the centre and add milk, eggs, vanilla and butter, whisk to combine. Add vinegar and red food colouring. Set aside
Meanwhile make the icing. Mix together cream cheese and butter. Add powdered sugar, milk and vanilla and whisk until completely smooth.
Ladle about ⅓ cup of pancake mixture into a non-stick pan over medium heat. Cook until the bubbles pop and then flip and cook for an additional 30 seconds.
Stack pancakes, drizzle with icing and chopped fruit.
Enjoy!
Watch the recipe video here:
Red Velvet Pancakes

Posted by Twisted on Wednesday, February 14, 2018