Blueberry, Basil and Goat Cheese Pie
For a good friend moving to L.A., I made a blueberry goat cheese pie. Bake one, share it and start a precious memory. —Ashley Lecker, Green Bay, Wisconsin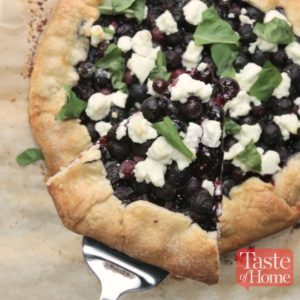 Ingredients
Pastry for single-crust pie (9 inches)
2 cups fresh blueberries
2 tablespoons plus 2 teaspoons sugar, divided
1 tablespoon cornstarch
1 tablespoon minced fresh basil
1 large egg
1 teaspoon water
¼ cup crumbled goat cheese
Fresh basil leaves, torn
Instructions
Preheat oven to 375°. On a floured sheet of parchment, roll dough into a 10-in. circle. Transfer to a baking sheet.
Mix blueberries, 2 tablespoons sugar, cornstarch and basil. Spoon blueberry mixture over pastry to within 2 in. of edge. Fold pastry edge over filling, pleating as you go and leaving the center uncovered.
Whisk egg and water; brush over pastry. Sprinkle with remaining sugar. Bake 30 minutes. Sprinkle with goat cheese; bake until crust is golden and filling is bubbly, about 10 minutes. Transfer to a wire rack to cool. Top with torn basil leaves before serving.
Watch the recipe video here: