Rice Cooker Upside-Down Pineapple Cake
Rice Cooker Upside-Down Pineapple Cake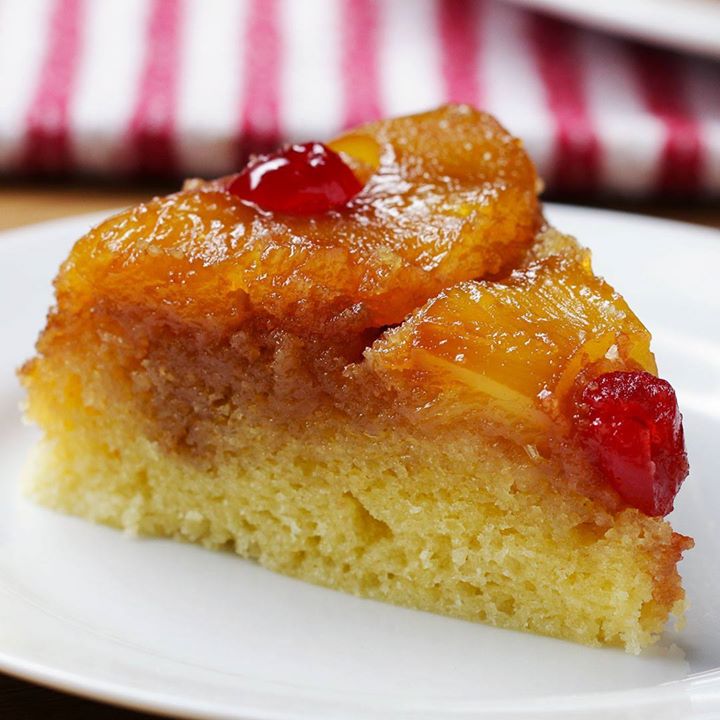 Ingredients
CAKE
¾ cup (150 g) granulated sugar
3 oz (85 g) cream cheese, room temperature
2 large eggs
2 tablespoons pineapple juice, from can
5 tablespoons unsalted butter, melted
1 cup (125 g) pancake mix
7 canned pineapple slice
7 maraschino cherries
CARAMEL SAUCE
½ cup (115 g) unsalted butter
1 cup (220 g) brown sugar, packed
vanilla ice cream, for serving (optional)
Instructions
In a large bowl, use a spatula to mix the sugar and cream cheese until well-combined. Whisk in the eggs until there are no lumps remaining.
Stir in the pineapple juice, melted butter, and pancake mix until the batter is thick and smooth.
Make the caramel sauce: in a small saucepan over medium-high heat, melt the butter, then add the brown sugar. Stir rapidly for 2 to 3 minutes. Remove from the heat once mixture starts to boil and thicken.
Pour the caramel sauce into the bottom of a 1-liter rice cooker bowl insert.
Place one pineapple slice in the middle of the rice cooker bowl, then arrange the other slices in a ring around it. Place one maraschino cherry in the center of each pineapple slice.
Pour the cake batter over the pineapple slices and shake to smooth out the top of the batter.
Cook for 60 minutes.
Remove the bowl insert from the rice cooker and invert the cake onto a plate.
Slice and serve, topped with vanilla ice cream if desired.
Enjoy!
Watch the recipe video here:
Rice Cooker Pineapple Upside-Down Cake

You can make this pineapple upside-down cake in a rice cooker ? ?!FULL RECIPE: tasty.co/recipe/rice-cooker-upside-down-pineapple-cakeCheck out our BRAND NEW kitchenware line right here: http://bit.ly/2INqIrk – We may make some $$ if you buy!

Posted by Tasty on Friday, March 23, 2018