Breakfast Wafflewiches
Breakfast Waffles. Yep, I said it! These creative bad boys will have your brunch game on point like never before! Seriously though…a delicious biscuit waffle…stuffed with cheese, egg, and ham?! Doesn't really get much better than that! Great for entertaining or even to make with your kids on a Saturday morning!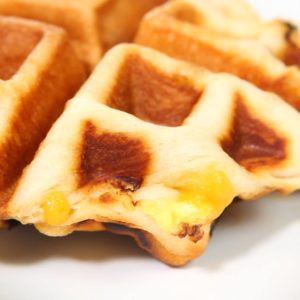 Ingredients
1 16.3oz Package Pillsbury Grands Flaky Layers Refrigerated Biscuits
6 Eggs, lightly scrambled
8 Slices Cheddar cheese
8 Pieces thinly sliced smoked ham
Instructions
Preheat a waffle iron to medium heat and lightly spray it with nonstick cooking spray.
Open the biscuits and separate each biscuit in half.
Stretch the layers thin to about 5 or 6 inches in diameter.
Top one half of the biscuit with a piece of cheese, a slice of ham, and a generous heaping tablespoon of scrambled eggs.
Top with the other half of the biscuit and pinch to seal the edges closed.
Place in the waffle iron and close. Cook 4 to 5 minutes or until the biscuit is golden brown and cooked through.
Store the prepared wafflewiches in a warm oven until the others are finished. Serve warm.
Enjoy!
Watch the recipe video here: