Giant Chocolate Soufflé
BIG souffle, BIG taste! ?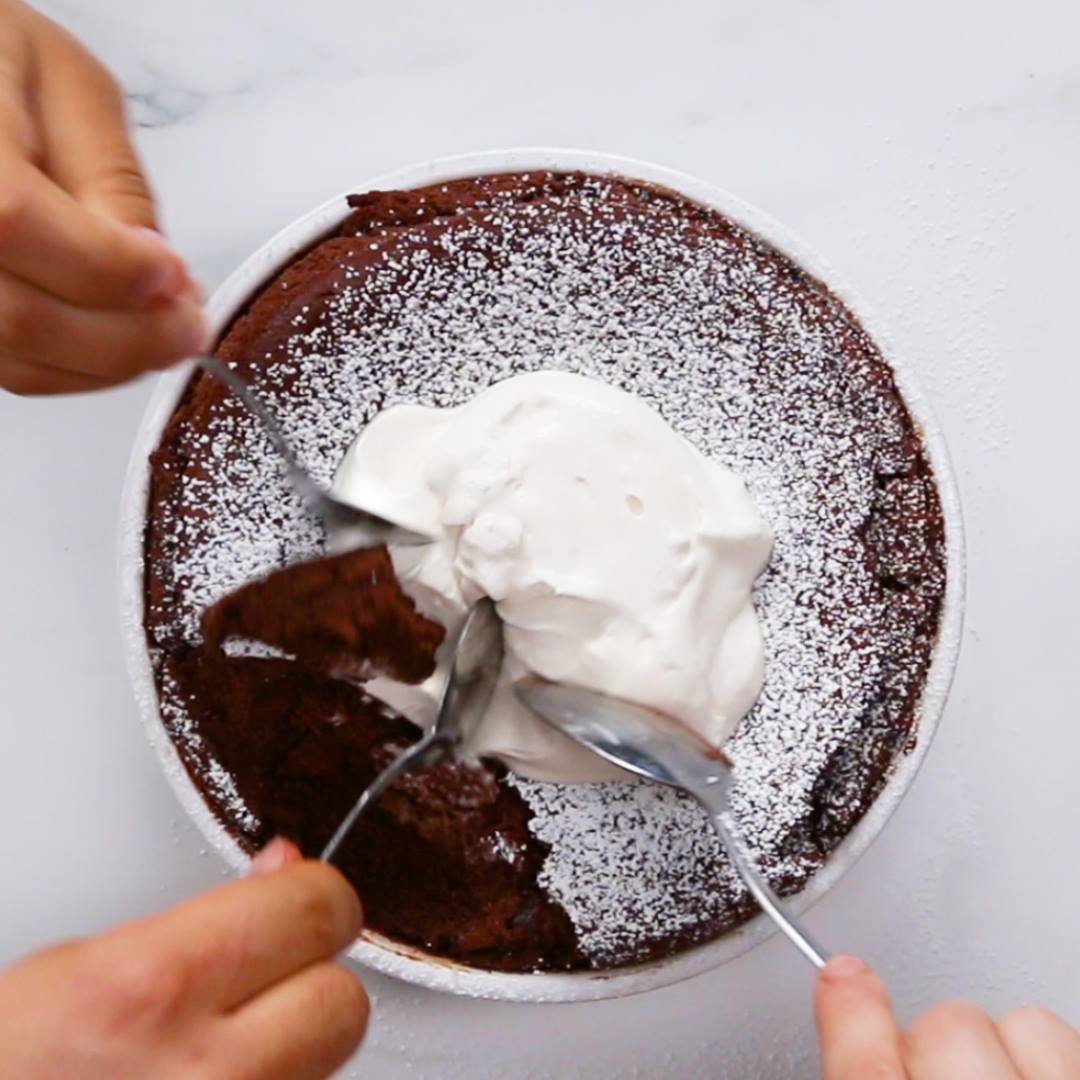 Ingredients
2 tablespoons unsalted butter, softened, for greasing
¾ cup granulated sugar, divided (150 g)
2 ½ cups whole milk (600 mL)
12 oz semisweet chocolate, chopped (340 g)
6 large eggs, separated
¼ cup all-purpose flour (30 g)
½ teaspoon salt
1 teaspoon vanilla extract
½ teaspoon cream of tartar
powdered sugar, for topping
whipped cream, for topping
SPECIAL EQUIPMENT
Instructions
Preheat the oven to 400°F (200°C) and position a rack at the bottom of the oven, removing the other rack.
Grease the ramekin with the softened butter and pour in ¼ cup (50 g) of sugar. Tilt the ramekin to coat with sugar evenly, then pour out the excess and set the ramekin aside.
In a medium saucepan, scald the milk over medium heat. Just before boiling, remove the milk from the heat and whisk in the chopped chocolate until melted. Set aside.
In a large bowl, whisk together the egg yolks, ¼ cup (50 g) of sugar, the flour, salt, and vanilla, until smooth.
Add ½ cup (120 ml) of the chocolate milk mixture to the yolks and whisk until combined. This will temper the egg yolks so they don't curdle when added to the rest of the chocolate mixture.
Return the pan with the remaining chocolate milk mixture back to the stove over medium heat and pour in the chocolate egg yolk mixture. Whisk constantly until thick.
Remove the chocolate pastry cream from the heat and transfer to a large bowl. Cover with plastic wrap, making sure the plastic touches the surface to prevent a skin from forming. Chill in the refrigerator for 30 minutes.
In a large bowl, combine the egg whites and cream of tartar. With an electric hand mixer, whip the egg whites until they turn opaque and leave trails. Gradually add the remaining ¼ cup (50 g) of sugar and beat until stiff peaks form.
Spoon about 1 cup (240 ml) of the whites into the chocolate pastry cream. Fold until no white streaks remain. Gently fold in the rest of the whites in 2 additions, being careful not to deflate the whites. Once no white streaks are visible, transfer the batter to the prepared ramekin and smooth out the top.
Run your thumb between the outside edge of the dish and the batter to create a border.
Reduce the oven temperature to 375°F (190°C), then immediately place the soufflé in the oven and bake for 45-50 minutes, until the soufflé has risen over the edge of the dish. Do not open the oven while baking.
Dust the soufflé with powdered sugar and top with whipped cream.
Enjoy!
Watch the recipe video here:
BIG souffle, BIG taste! ?Watch the behind the scenes of the making of the chocolate souffle: https://www.youtube.com/watch?v=PkHotdob_08

Posted by Tasty on Wednesday, September 5, 2018