Bananas Foster on the Grill
Bananas Foster is my husband's favorite dessert, and this is one of the easiest recipes I have found. Not only is it delicious, it's a great way to use those bananas that are a little too ripe to just peel and eat.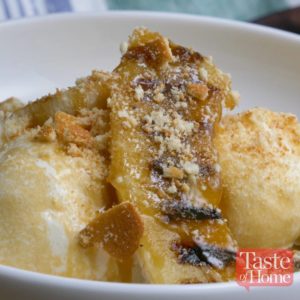 Ingredients
4 small ripe bananas, unpeeled
Disposable foil pie pan (9 in.), optional
3 tablespoons butter
2 tablespoons maple syrup
2 tablespoons hot caramel ice cream topping
2 cups vanilla ice cream
8 vanilla wafers, crushed
Instructions
Trim ends and cut unpeeled bananas lengthwise; place on oiled grill rack over medium heat. Grill, covered, until peel is dark brown and bananas are softened, 3-4 minutes on each side. Cool slightly.
Meanwhile, in a small cast-iron skillet or 9-in. disposable foil pie pan, combine butter, syrup and caramel topping; place on grill rack. Cook, uncovered, over medium heat until heated through, 4-5 minutes, stirring frequently. Remove from heat.
Remove peel from bananas; cut each half crosswise. To serve, place ice cream in dessert dishes; top with bananas. Drizzle with sauce; sprinkle with crushed wafers.
Watch the recipe video here: