Giant Edible Cookie Bowl
Giant Edible Cookie Bowl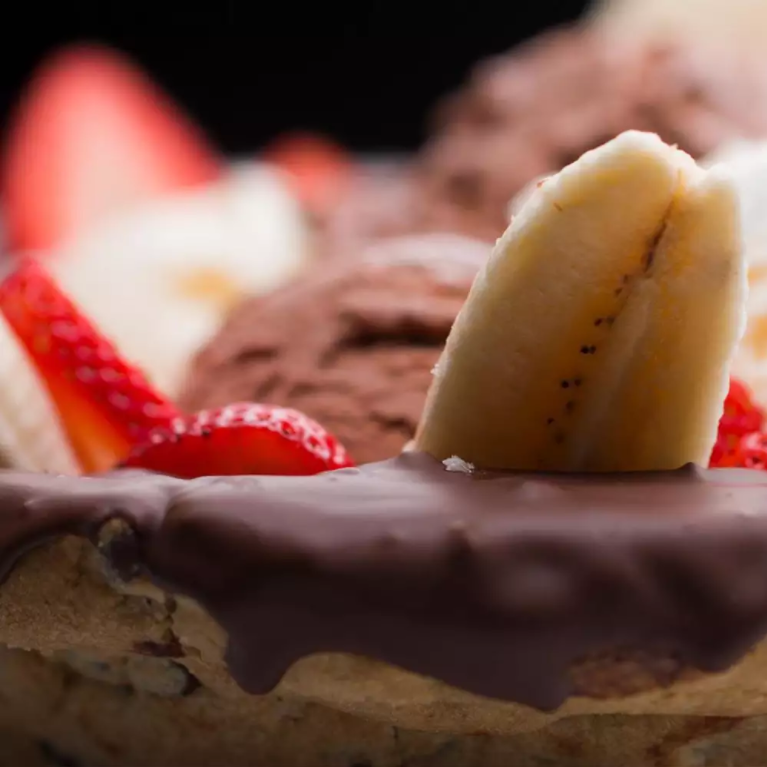 Ingredients
1 lb (455 g) store-bought cookie dough
½ cup (60 g) all-purpose flour
nonstick cooking spray
1 cup (175 g) semisweet chocolate chip
1 tablespoon coconut oil
4 scoops vanilla ice cream
4 scoops chocolate ice cream
1 banana, quartered
6 strawberries, sliced vertically
½ cup (30 g) whipped cream
Instructions
Preheat the oven to 325˚F (160˚C).
Place cookie dough in a medium bowl and add the flour. Mix until the flour is incorporated. The extra flour will help keep the cookie from running off of the bowl.
Line a baking sheet with parchment paper, and wrap an ovenproof bowl in foil. Spray with nonstick spray and press the cookie dough onto the bowl until it is completely covered.
Bake for 25 minutes, or until golden brown. Remove from oven and cool for 30 minutes with the bowl facing down. Once it has cooled, flip over, remove the ovenproof bowl, and allow the cookie to finish cooling.
Meanwhile, microwave the chocolate chips with the coconut oil for 1 minute, stirring every 20 seconds, until the chocolate has fully melted.
Pour the melted chocolate into the cookie bowl and spread it around until the inside of the bowl is fully covered, pouring the excess chocolate out. Freeze for 20 minutes, or until the chocolate has fully hardened.
Fill with vanilla and chocolate ice cream, banana, strawberries, and whipped cream.
Enjoy!
Watch the recipe video here:
Have your cookie and eat it, too, with this giant cookie bowl ?!FULL RECIPE: https://tasty.co/recipe/giant-edible-cookie-bowl

Posted by Tasty on Tuesday, March 20, 2018