Chocolate Peanut Butter Swirl Cookie Pie
Eye on the pies - we're hypnotized.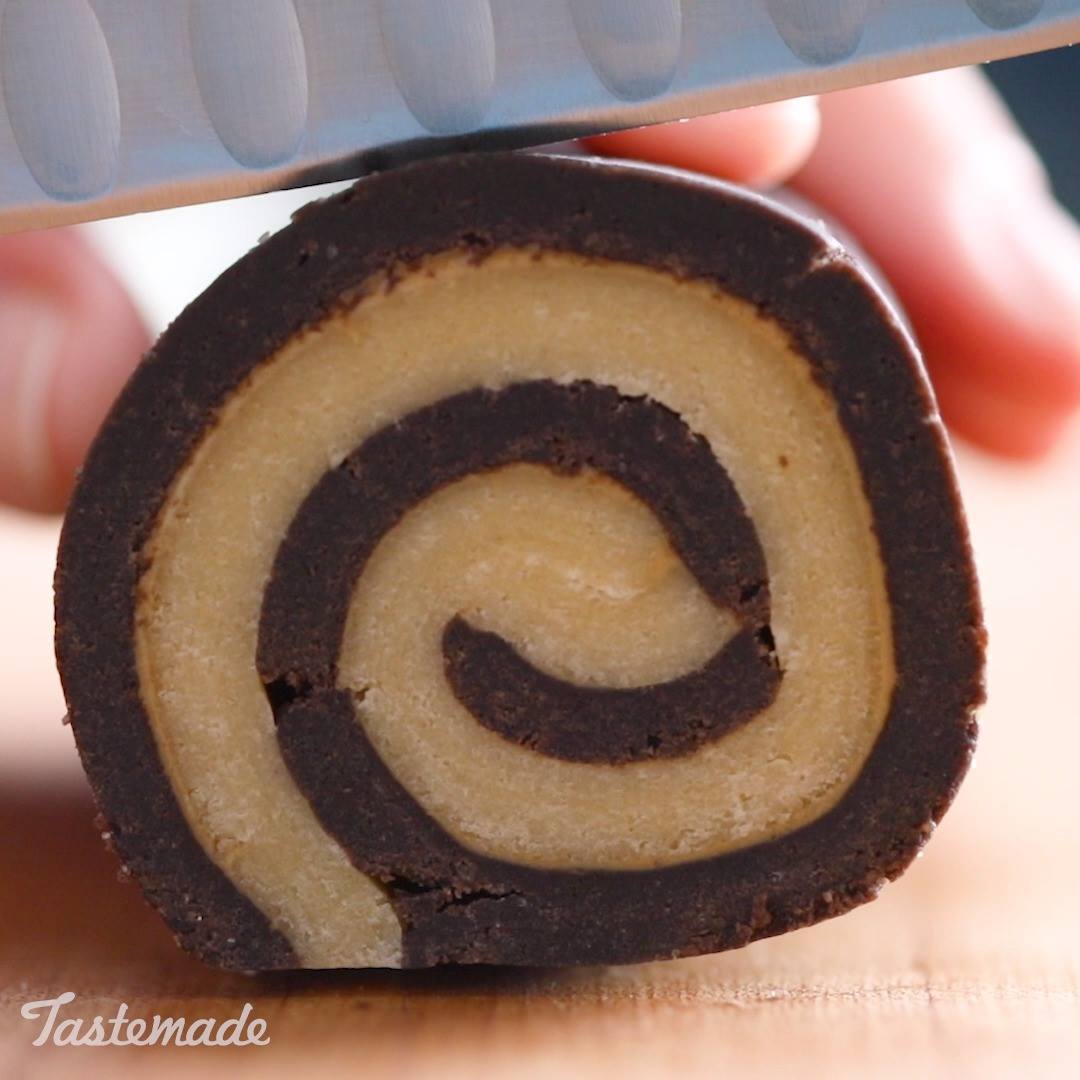 Ingredients
For the cookie crust:
1½ sticks butter, softened
1¾ cups sugar
½ teaspoon salt
2 large eggs
2 teaspoons vanilla extract
1 teaspoon almond extract
5 cups flour
¼ cup cocoa powder
⅓ cup peanut butter
For the pie filling:
1 cup heavy cream
1½ cups smooth peanut butter
8 ounces cream cheese, softened
½ cup sugar
¼ cup brown sugar
1 teaspoon vanilla extract
½ teaspoon salt
Instructions
For the cookie crust: In a stand mixer, beat the butter and sugar until fluffy. Add the salt and eggs one at a time. Add the vanilla and almond extracts. Slowly incorporate the flour until the dough is even. Remove half of the dough and set aside. Mix the cocoa powder into the remaining dough and set aside.
Wrap the chocolate dough and the vanilla almond dough separately in plastic wrap and refrigerate for about 30 minutes.
Roll out the two chilled doughs and trim them to be the exact same size. Gently spread the peanut butter over the vanilla almond dough and then top with the sheet of chocolate dough. Carefully roll the two doughs together, sandwiching the peanut butter between the layers and taking care to avoid any gaps in the dough. Wrap the rolled cookie dough log in plastic wrap and refrigerate for about an hour.
Line a 9-inch pie tin with parchment paper, and trace a 9-inch circle onto a sheet of parchment paper. Place on a cookie sheet.
Once well chilled, gently slice the chilled log into ¼-inch slices. Place the cookies into the prepared pie tin and press gently. Overlap the cookies slightly to ensure that a crust is created without holes. Cover the 9-inch round circle with cookie slices as well. Place the crusts in the refrigerator. Preheat the oven to 350 degrees.
Bake the cookie crusts for about 15 to 18 minutes. Remove from the oven and allow to cool completely.
For the filling: Whip the cream to stiff peaks and set aside. Mix all other ingredients in a medium bowl until well incorporated. Fold in the whipped cream. Fill the cookie pie crust with peanut butter pie filling and top with the circle crust. Place in the refrigerator for about 4 hours. Cut and serve chilled.
Watch the recipe video here:
Eye on the pies – we're hypnotized.Taste for Yourself: taste.md/2IZ2SfcTry Tastemade TV, Free for 7 days: https://taste.md/2zcId3s

Posted by Tastemade on Thursday, July 5, 2018