Brownie Popsicles
When cake pops just don't satisfy, go bigger with a rich, chocolatey brownie coated in chocolate candy melt.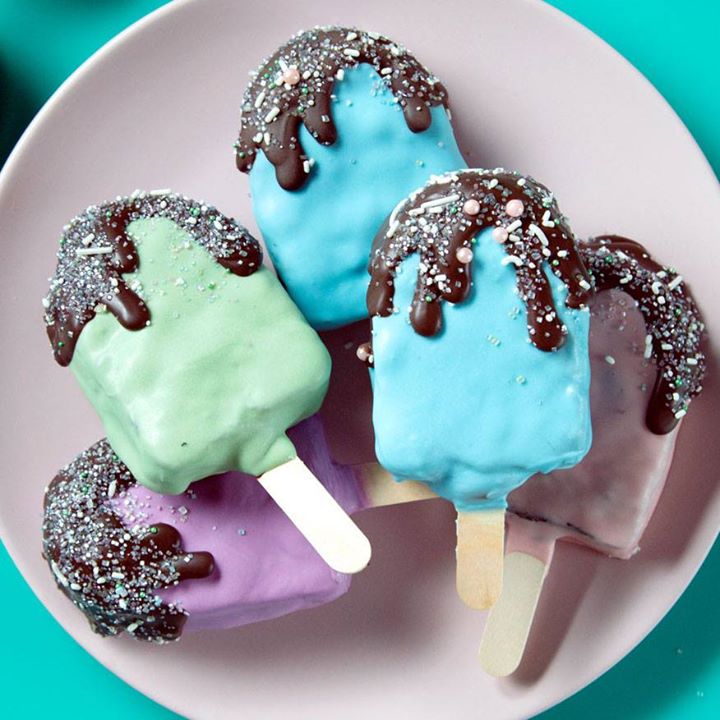 Ingredients
Brownies:
1 cup butter
1 cup unsweetened cocoa powder
2 cups sugar
¾ cup all-purpose flour
2 cups chopped walnuts
1 teaspoon large-flake sea salt
4 large eggs
1 tablespoon vanilla extract
1 teaspoon instant espresso powder
Dipping chocolate:
Colored candy melts
Dark chocolate candy melts
Coconut oil
Sprinkles for garnish
Instructions
Bake the brownies:
Preheat oven to 325 degrees. Grease and line an 11x17-inch cake pan with parchment paper.
In a small pot set over low heat, melt butter and cocoa powder, stirring until smooth. Set aside to cool.
In a medium bowl, mix together sugar, flour, walnuts and salt.
In a large bowl, whisk eggs and cocoa mixture together, then add vanilla and espresso powder. Add the flour mixture and stir gently to combine. Pour into the prepared pan and bake for 35 to 40 minutes. Let cool completely. Chill for 15 minutes in the refrigerator, then remove from pan.
Make the popsicles:
Using a 3x2-inch popsicle-shaped cookie cutter, cut out popsicles. Insert a popsicle stick coated in melted candy melts into each popsicle. Place in the freezer for about 15 minutes to set.
Decorate the brownies:
In heatproof bowls set over pots of boiling water, melt the dark chocolate candy melts and candy melts in your choice of colors. Add a teaspoon of coconut oil per cup of candy melts to thin the mixture. When the candy melts ribbon off of a spoon, they've reached a good dipping consistency.
Pour melted candy melts into wide heatproof jars and dip the chilled brownie pops into the mixture. Lay the pops on a silicone baking mat or a piece of parchment paper to set.
Once the colored chocolate has set, garnish with dark chocolate candy melt drips and coat with sprinkles. Allow to set, then then serve!
Watch the recipe video here:
Brownie pops are the new cake pops.Save this recipe: https://taste.md/2tI1u5vHelp us be better for you! > taste.md/2Cf5XkD

Posted by Tastemade on Monday, January 8, 2018