Crescent Roll Apple Dumplings
These bad boys were SO good! Seriously, I can't wait to make this dish for my family this holiday season! Apples wrapped in dough with a delicious gooey sauce on top?! Man oh man…It doesn't get much better than this! Doesn't even take long to make at all! Sure does taste like it did!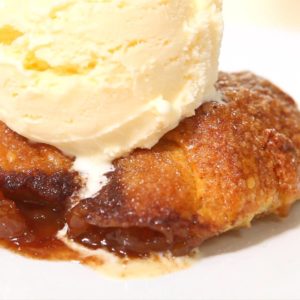 Ingredients
2 (8 each) Cans refrigerated crescent roll dough
2 Sticks of butter
1½ CUPS Brown sugar
1 tsp Vanilla extract
1 tsp Cinnamon
1 Can (12oz) Mountain Dew
2 large Granny Smith apples, peeled and cored
Instructions
Preheat oven to 350°F.
Wash the apples, peel and cut into eight equal slices.
Unwrap the crescent roll and separate the triangles.
Place a piece of apple on each triangle of dough (on a wider side) and roll it in a croissant.
Butter a 13 x 9-inch baking dish.
In a separate bowl, combine the butter, cinnamon, sugar and vanilla, mix until you get a liquid mixture without lumps and pour over the rolls.
Pour soda (Mountain Dew) between rolls (but not over) and bake for 35-45 minutes, or until they become golden brown.
Serve immediately
Enjoy!
Watch the recipe video here: