Cheesecake-Stuffed Churro Sandwiches
These cheesecake sandwiches are churrific!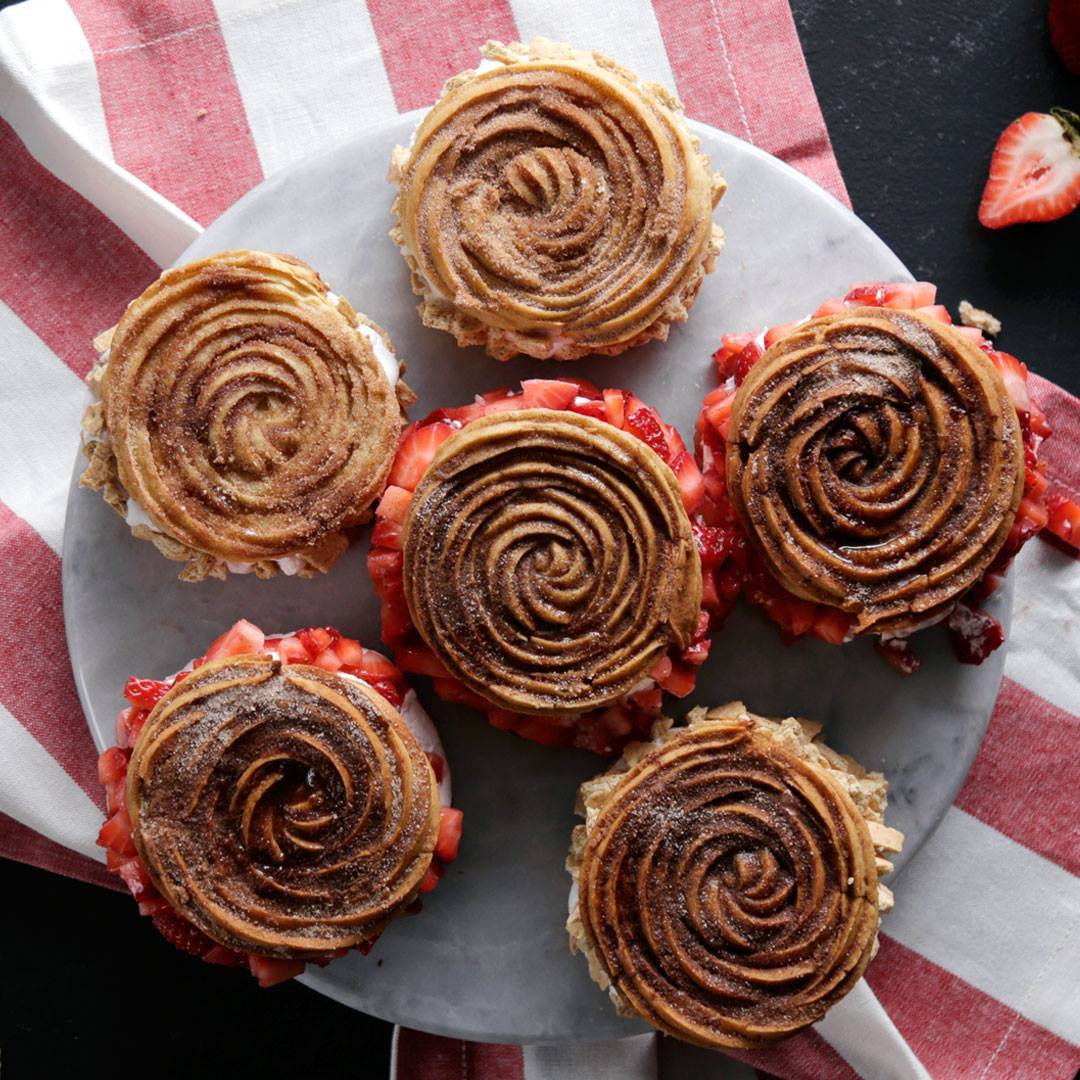 Ingredients
For the churros:
2 cups water
1 stick butter
4 tablespoons brown sugar
1 teaspoon salt
2 cups all-purpose flour
2 large eggs
1 tablespoon vanilla
½ cup sugar, for dusting
4 tablespoons cinnamon, for dusting
1 cup chopped strawberries
1 cup ground graham crackers
For the filling:
2 cups cream cheese, softened at room temperature
10 ounces sweetened condensed milk
Zest and juice of 1 lemon
1 teaspoon vanilla
Instructions
Make the churros:
In a small saucepan, combine water, butter, brown sugar and salt and bring to a simmer until butter is melted. Turn off heat and pour into a stand mixer bowl fitted with the paddle attachment. Allow to cool for 5 minutes and then add flour. Mix until combined. Add eggs and vanilla and stir. Transfer to a pastry bag with a star tip.
Preheat oven to 375 degrees, and line two baking sheets with silicone baking mats. Pipe spiral churros about 2½ inches in diameter, approximately 12 round churros. Bake for 20 to 25 minutes until slightly crispy. Once slightly cooled, toss churros in cinnamon sugar and set aside.
Make the filling:
In a large bowl, beat softened cream cheese with a hand mixer until light and fluffy, approximately 3 minutes. Add sweetened condensed milk, lemon and vanilla. Mix until combined. Set bowl in the freezer and allow to chill and set.
Assemble the churros:
Place cheesecake filling in a piping bag, and pipe approximately ½ cup of filling between two churros. Dip sides of filling in graham crackers or strawberries and serve.
Watch the recipe video here: