Baileys Chocolate Fudge Cake
BAILEYS CHOCOLATE FUDGE CAKE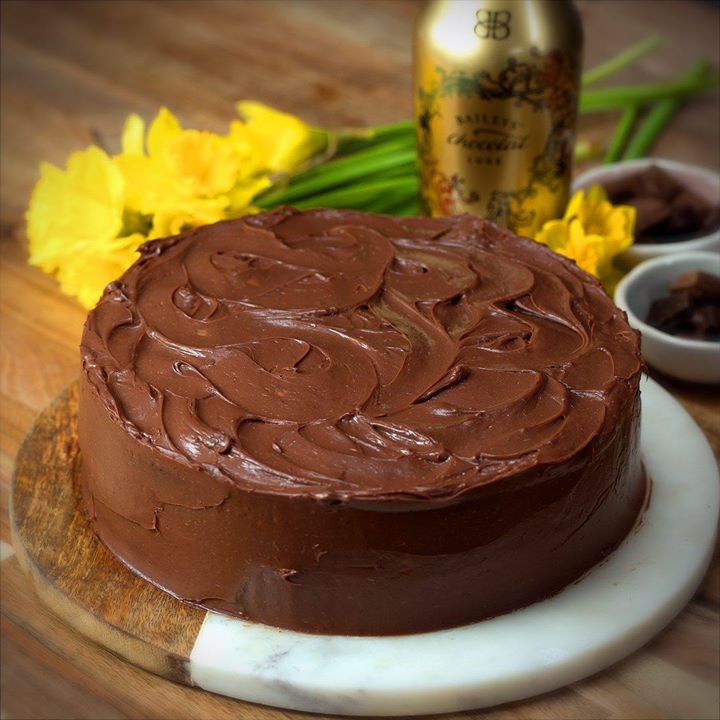 Ingredients
250g plain flour
450g sugar
75g unsweetened cocoa powder
2 teaspoons baking powder
1½ teaspoons baking soda
1 teaspoon salt
1 teaspoon instant coffee
250ml Baileys
125ml vegetable
2 large eggs
2½ teaspoons vanilla extract
250ml boiling water
100 g Dark Chocolate (7oz)
300 g Milk Chocolate (21oz)
200ml baileys
250ml double cream
Instructions
Pre-heat oven to 180ºC (350ºF).
Add flour, sugar, cocoa, baking powder, baking soda, salt and espresso powder to a large bowl or the bowl of a stand mixer. Whisk through to combine or, using your paddle attachment, stir through flour mixture until combined well.
Add Baileys, vegetable oil, eggs, and vanilla to flour mixture and mix together on medium speed until well combined. Reduce speed and carefully add boiling water to the cake batter until well combined.
Distribute cake batter evenly between the two prepared cake pans. Bake for 30-35 minutes, until a toothpick or cake tester inserted in the centre of the chocolate cake comes out clean.
Remove from the oven and allow to cool for about 10 minutes, remove from the pan and cool completely.
In microwaveable jug, heat cream and baileys for 2 minutes until steaming. Our over chopped chocolate. Let sit for 5 minutes then stir to incorporate. Let set until thick at room temperature.
Place one layer of cake down and top with ganache. Top with second piece of cake. Cover entire cake with remaining ganache.
Slice and Enjoy!
Watch the recipe video here:
Baileys Chocolate Fudge Cake

Posted by Twisted on Monday, April 9, 2018