Piggy Steamed Buns with Char Siu Pork
We are obsessed with how cute and delicious these piggy steamed buns are. Oink, oink!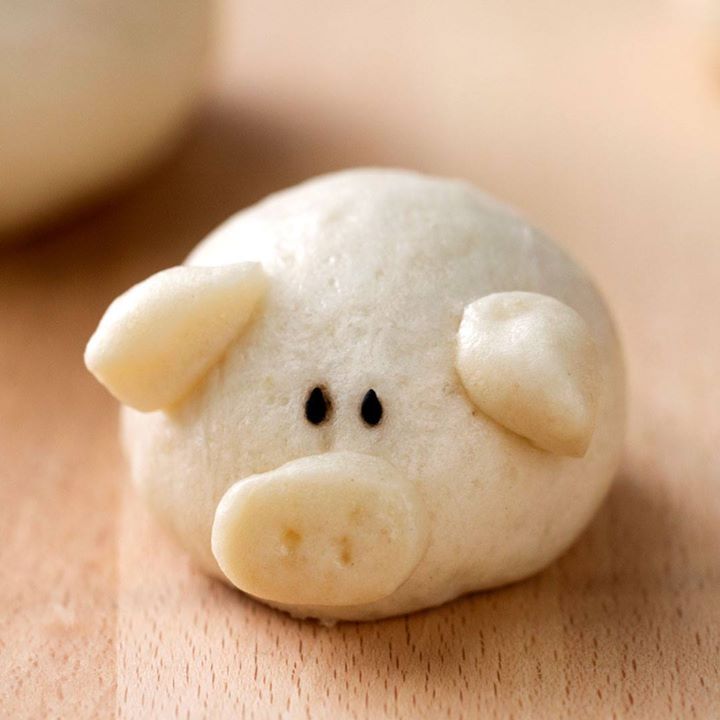 Ingredients
Char siu pork:
½ tablespoon sugar
1½ tablespoons honey
1½ tablespoons hoisin sauce
1 teaspoon oyster sauce
1½ tablespoons soy sauce
½ teaspoon five-spice powder
1 teaspoon sesame oil
1½ tablespoons oil
1 pound pork shoulder
Buns:
2½ cups plus 2 tablespoons flour
¾ teaspoon instant yeast
¾ teaspoon baking powder
3 tablespoons caster sugar
⅔ cup water
1 tablespoon canola oil
Black sesame seeds
Instructions
For the char siu pork:
In a medium bowl, whisk marinade ingredients until well combined. Add the pork shoulder, and toss to make sure the pork is evenly coated. Cover, refrigerate and let marinate for at least 3 hours.
Preheat oven to 350 degrees.
Line a baking tray with parchment paper and place a wire rack on top.
Remove pork from marinade; reserve the marinade for basting. Place pork on wire rack, and pour water into the baking tray. Roast for 25 minutes, flip halfway through and baste with remaining marinade. The pork is done when the internal temperature is at least 145 degrees.
Remove pork from oven, and let rest for 10 minutes before dicing into small pieces. Set aside until ready to use.
For the steamed buns:
In a large mixing bowl, whisk together flour, yeast, baking powder and sugar. Stir in water and oil until most of the dough comes together. Turn out on a floured surface and knead for 10 minutes. Place in an oiled bowl, cover and let it proof for 1 hour or until double in size.
After the first proofing, divide the dough into 12 pieces. Form into a ball, flatten the outer perimeter and add a hefty spoonful of the char siu pork into the center. Pull the edges up over the meat and reform dough into a tight ball. Pinch off some of the remaining dough for the ears, nose and tail and stick to the formed bun with a dab of water. Use black sesame seeds for the eyes and for the nose; use a toothpick to form the shape. Place each bun onto a square of parchment paper and let it proof for 15 minutes before steaming.
While the buns proof for the final time, heat up water in your steamer. Make sure the water is boiling before adding the buns. Steam for 12 minutes. Turn off the heat and let the buns rest in the steamer for 2 minutes before serving.
Watch the recipe video here:
CONTAIN YOURSELF! These piggy steam buns will kill you with cuteness.Taste for Yourself: taste.md/2pU9GyZ

Posted by Tastemade on Saturday, March 31, 2018