Bacon Cheeseburger Dough Balls
Mini Cheeseburger Dough Balls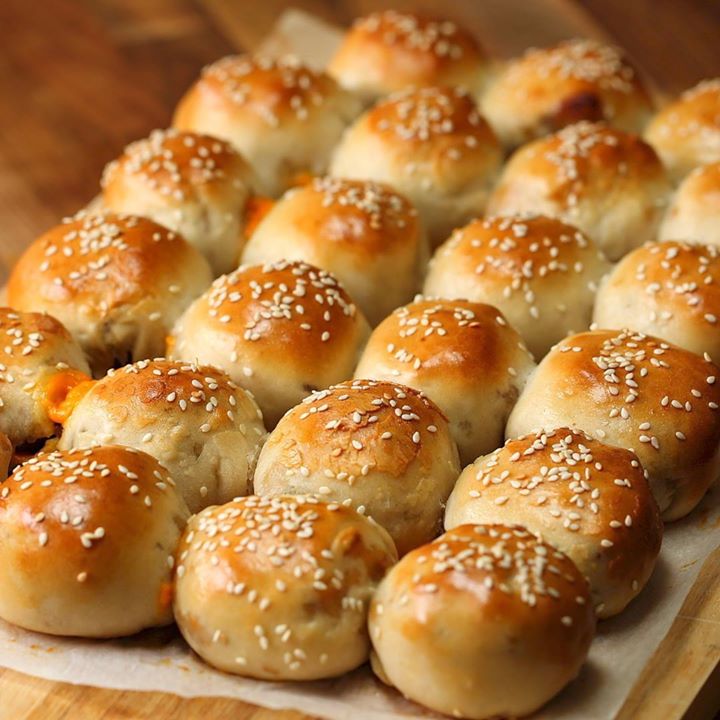 Ingredients
800g beef mince
Sliced cheddar cheese cut into 1" squares
Bacon rashers, cooked and chopped into 1" pieces
2 tsp salt
1½ tsp pepper
1 tsp Garlic powder
Egg wash
Sesame seeds
660g pizza dough
Instructions
Pre-heat oven to 180ºC (350ºF).
In a large bowl mix together beef mince, salt, pepper and garlic powder until combined. Form into small meatballs and then flatten into mini patties.
Fry each beef patty in a bit of oil in a pan over medium heat until browned.
Make golf ball sized dough balls from the pizza dough. Press flat into a disk but not too thin. Top each in the middle with one piece of cheese followed by bacon, mini burger and more cheese. Wrap bread dough evenly to seal. Arrange each on a tray.
Brush with egg wash and sprinkle with sesame seeds.
Bake dough balls for 30 minutes until golden brown.
Enjoy!
Watch the recipe video here:
Bacon Cheeseburger Dough Balls

Posted by Twisted on Wednesday, November 15, 2017