Cabbage Burritos
Prefer a smaller burrito? Use one leaf instead of two! (You'll get 8 smaller burritos instead of 4 big ones!)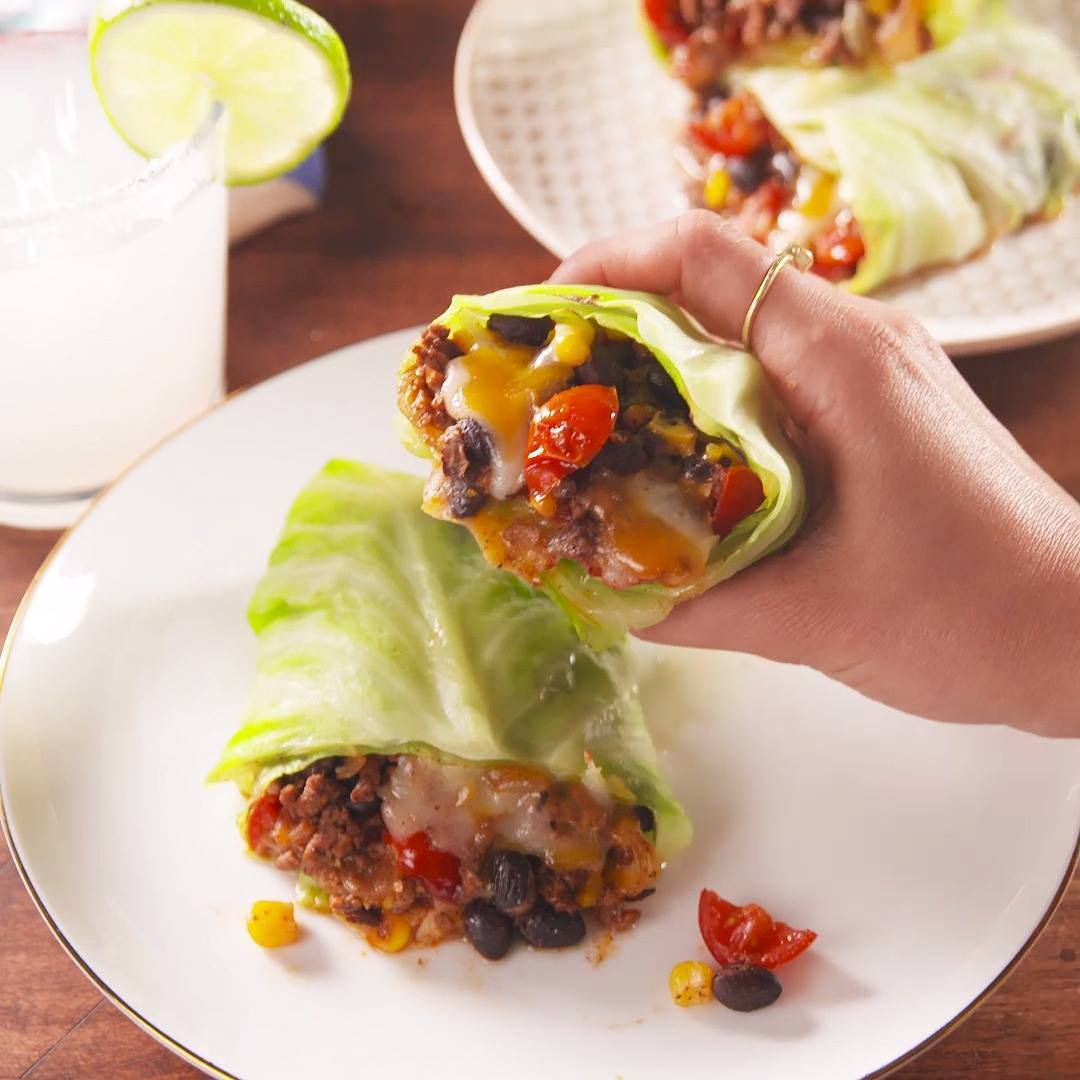 Ingredients
8 large green cabbage leaves (from 1 head)
1 tbsp. extra-virgin olive oil
½ onion, chopped
1 lb. ground beef
2 cloves garlic, minced
1 tbsp. taco seasoning mix
Kosher salt
Freshly ground black pepper
1 (15-oz.) can black beans
1½ c. chopped cherry tomatoes
1 c. corn, canned and drained or frozen
1 c. shredded Monterey Jack
½ c. shredded cheddar
Instructions
Preheat oven to 350º and line a small baking sheet with parchment paper. In a large pot of boiling water, use tongs to dip cabbage leaves in water for 30 seconds to blanch. Place on a paper towel-lined plate to dry.
In a large skillet over medium heat, heat olive oil. Add onion and cook until soft, about 5 minutes, then stir in ground beef and garlic. Cook, stirring often, until beef is no longer pink, about 5 minutes. Drain excess fat, then season with taco seasoning mix, salt, and pepper. Stir in black beans, cherry tomatoes, and corn.
Lay 2 cabbage leaves side by side, overlapping slightly. Place a heaping spoon of ground beef mixer, then top with cheese. Fold short sides of cabbage leaves in first, then roll into a cylinder — like a burrito! Repeat with remaining beef mixture.
Place on baking sheet and bake until cheese is melted, about 10 minutes.
Watch the recipe video here:
These low-carb burritos are so good, you won't even miss the tortilla. Full recipe: http://dlsh.it/5KXpOOe

Posted by Delish on Monday, June 25, 2018