Edible Cake Tower
Turn your cake into a delicious Jenga tower or fun!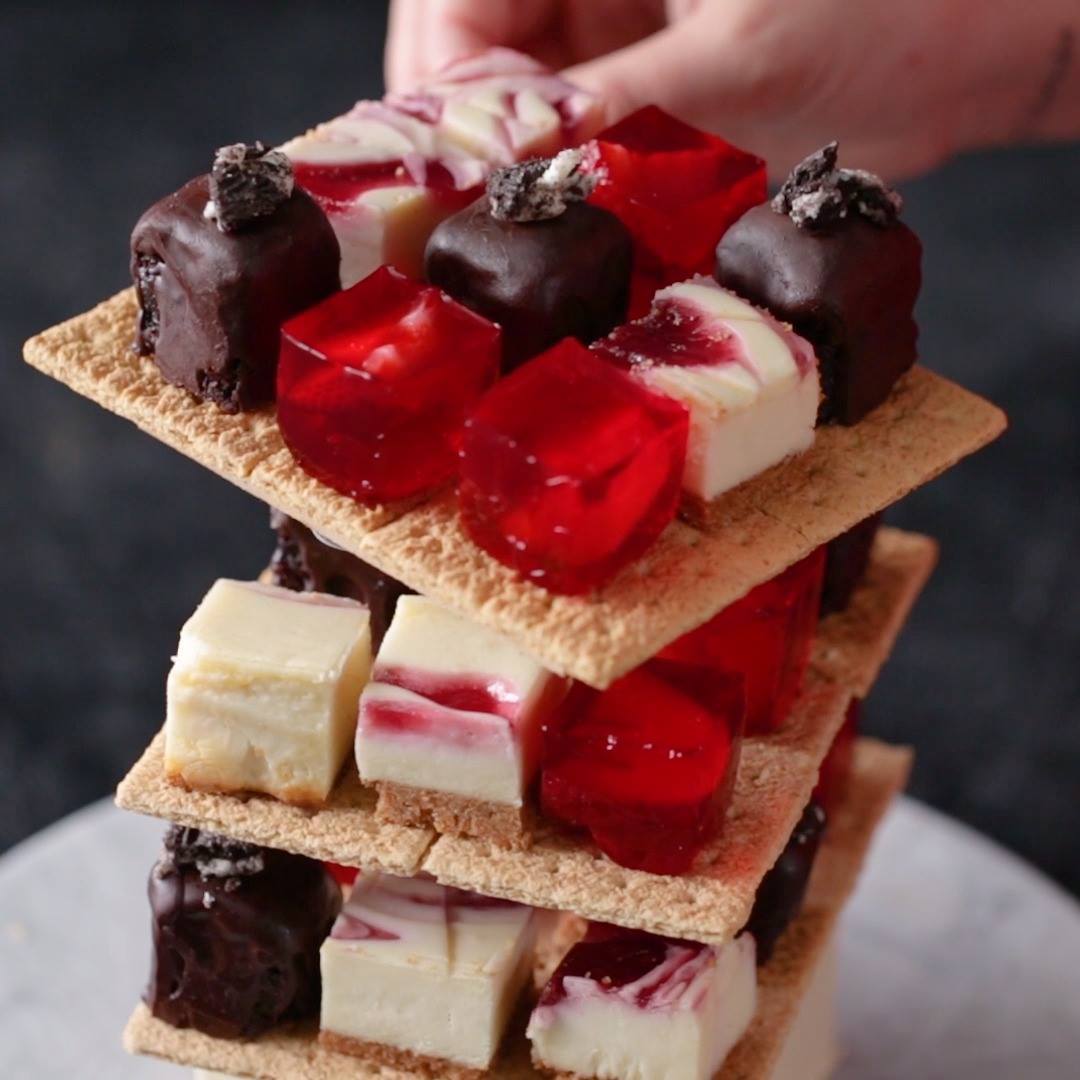 Ingredients
12 2-inch graham cracker squares
¼ cup caramel
For the Oreo brownie squares:
1 cup butter, softened at room temperature
1⅓ cups chopped dark chocolate
½ cup sugar
½ cup brown sugar
3 large eggs
½ teaspoon vanilla
¾ cup plus 2 tablespoons all-purpose flour
1 teaspoon salt
¼ teaspoon baking powder
¼ cup ganache, melted
¼ cup Oreo cookies, crushed
For the strawberry squares:
6 small strawberries, halved
½ cup strawberry jello mix
1½ cups boiling water
½ cup cold water
For the cheesecake squares:
2 cups cream cheese, softened
1 cup sweetened condensed milk
1 teaspoon vanilla
1 teaspoon lemon juice
2 tablespoons strawberry jam
½ cup ground graham crackers
3 tablespoons butter, melted
Instructions
Make the graham cracker bases:
Line 4 graham crackers together to form a square. Brush the inside corners of each of the squares with caramel and press back together. Repeat this two more times to form 3 6-inch squares. These will be the bases for your cake.
Make the brownie squares:
Preheat the oven to 350 degrees, and spray a 1.25-inch silicone ice cube tray with baking spray. In a large bowl over a double-boiler, melt butter and chocolate. Add sugars and remove from heat. Stir in eggs and vanilla. Add flour, salt and baking powder to combine. Pour batter into prepared mold. Bake for 20 to 25 minutes until set and slightly shiny. Once cooled, remove from mold and pour melted ganache over the top. Top each brownie with Oreos and set aside.
Make the strawberry squares:
Place a strawberry half in each square of a 1.25-inch silicone ice cube tray. In a small bowl, mix jello concentrate with boiling water until dissolved, then add cold water. Pour into mold and place in the fridge until set, approximately 2 hours.
Make the cheesecake squares:
Spray a 1.25-inch silicone ice cube tray with baking spray and set aside. In a small bowl, beat cream cheese until smooth. Add sweetened condensed milk, vanilla and lemon juice and pour into each square, leaving one-fourth of the square empty. Drop ⅛ teaspoon of strawberry jam in each and swirl throughout the square. In a small bowl, combine graham crackers and butter and press into the top of each square. Set in the freezer to chill for up to 3 hours until set.
Assemble the cake:
Place a graham cracker square on a cake turntable and arrange 3 of each square, brownie, cheesecake and strawberry. Top with another graham cracker square and repeat, changing the pattern of the squares, like a Rubik's cube. Repeat for the final layer. Give the cake a spin! It will keep up to 4 days covered in the refrigerator.
Watch the recipe video here:
After you finish these sweet bites – eat the tray.Taste for Yourself: taste.md/2Mmm2tp

Posted by Tastemade on Friday, June 29, 2018