Bacon Double Cheeseburger Pop-tarts
Bacon Double Cheeseburger Pop-tarts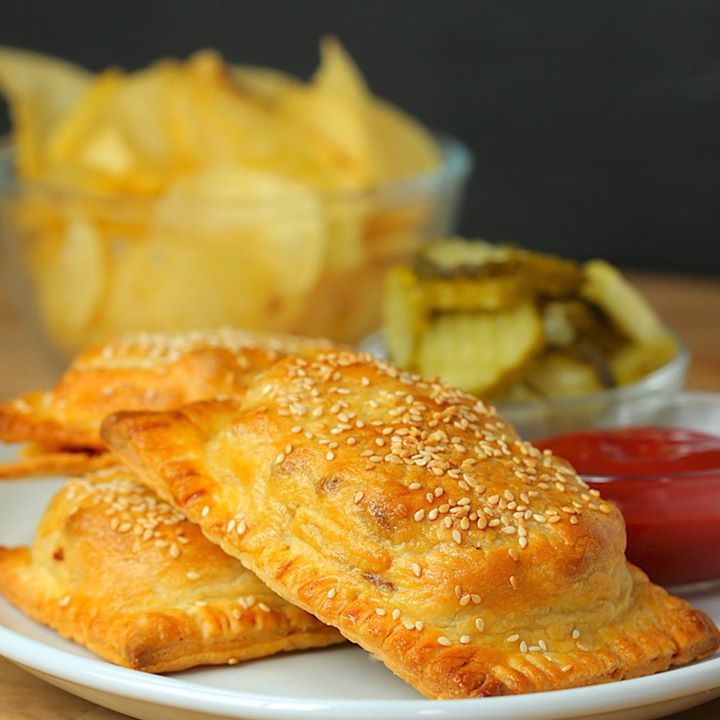 Ingredients
300g beef mince
1 tsp salt
½ tsp pepper
12 thin slices of yellow cheddar cheese
6 cooked bacon rashers
¼ white onion, finely chopped
Puff pastry
Sesame seeds
Egg wash
Instructions
Pre-heat oven to 200C (400f). Split beef mince into 50g balls and flatten each into a very thin rectangle.
Heat oil in a cast iron pan over medium heat. Add beef patties to hot pan and season each side with salt and pepper. Sear on both sides until brown, about 1 minute each, set aside.
Roll out puff pastry and cut into large rectangles abbot 2 inches larger than the patties.
Place on puff pastry sheet down, top with one beef patty followed by 2 slices of cheese, 2 slice of bacon, cheese, and another beef patty. Brush edges with egg wash. Cover with another large piece of puff pastry and press to seal edges. Cut with a pizza cutter to adjust if needed and use a fork to completely seal sides.
Brush entire top with egg wash and sprinkle with sesame seeds. Bake in the oven for 15 minutes until golden brown.
Serve with condiments
Enjoy!
Watch the recipe video here:
Bacon Double Cheeseburger Pop-tarts

Posted by Twisted on Wednesday, September 20, 2017