Buffalo Chicken Bombs
Flavor explosion.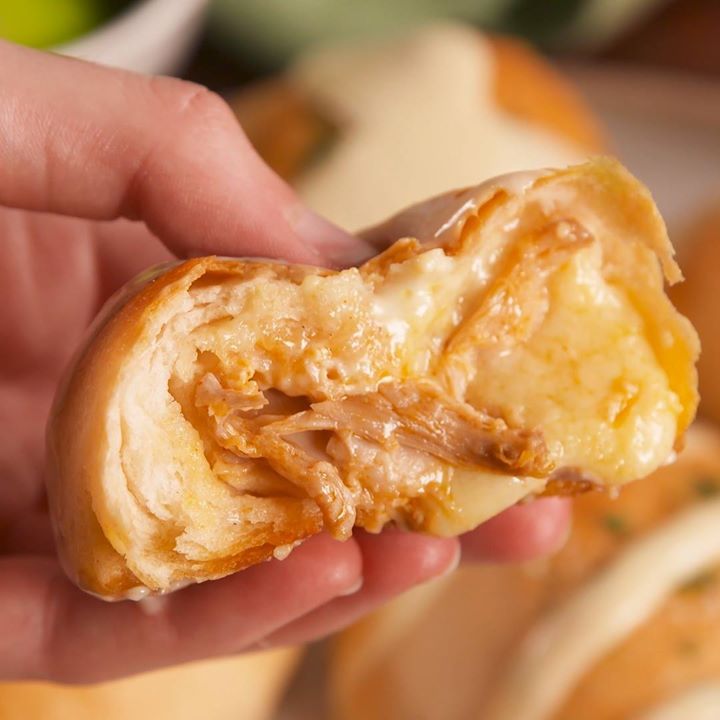 Ingredients
Cooking spray, for pan
¾ c. shredded cooked chicken
2 tbsp. buffalo hot sauce
1 tbsp. sour cream or mayonnaise
1 tube refrigerated biscuit dough
8 1-inch cubes white cheddar cheese, well chilled
3 tbsp. melted butter
1 tbsp. chopped parsley
1 tbsp. Chopped chives
Ranch dressing, for garnish
Instructions
Preheat oven to 375°. Spray an 8" round baking pan or pie dish with cooking spray. In a medium bowl, combine the chicken, buffalo sauce, and sour cream (or mayonnaise).
Flatten each biscuit round to about ¼" thickness. Top each round of dough with a scoop of the chicken mixture and a cube of cheese. Bring the edges of the dough together and pinch to seal. Place in pan seam side-down.
In a small bowl, mix the butter, parsley, and chives. Brush the tops of the dough balls with the butter mixture.
Bake until the biscuits are golden and cooked through, about 20 to 25 minutes.
Drizzle with ranch dressing and serve warm.
Watch the recipe video here: