Zucchini Egg Cups
You ain't seen muffin yet.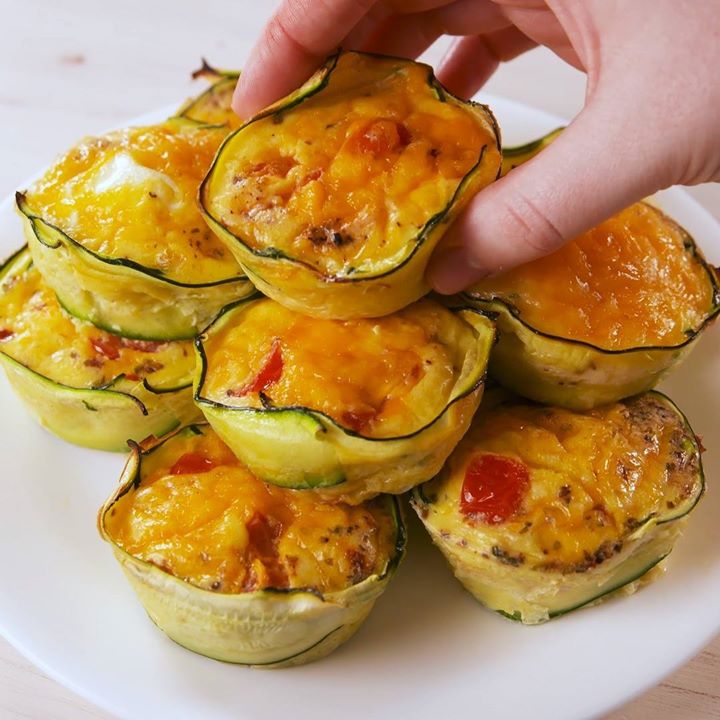 Ingredients
Cooking spray, for pan
2 zucchini, peeled into strips
¼ lb. ham, chopped
½ c. cherry tomatoes, quartered
8 eggs
½ c. heavy cream
Kosher salt
Freshly ground black pepper
½ tsp. dried oregano
1 c. Pinch red pepper flakes
1 c. shredded cheddar
Instructions
Preheat oven to 400° and grease a muffin tin with cooking spray. Line the inside and bottom of the muffin tin with zucchini strips, to form a crust. Sprinkle ham and cherry tomatoes inside each crust.
In a medium bowl whisk together eggs, heavy, cream, oregano, and red pepper flakes then season with salt and pepper. Pour egg mixture over ham and tomatoes then top with cheese.
Bake until eggs are set, 30 minutes.
Watch the recipe video here:
If you're trying to eat healthy, Zucchini Egg Cups are high protein but low carb.Full recipe: http://dlsh.it/nTXstgf

Posted by Delish on Sunday, April 8, 2018