Fireball Cake
Fireball lovers only.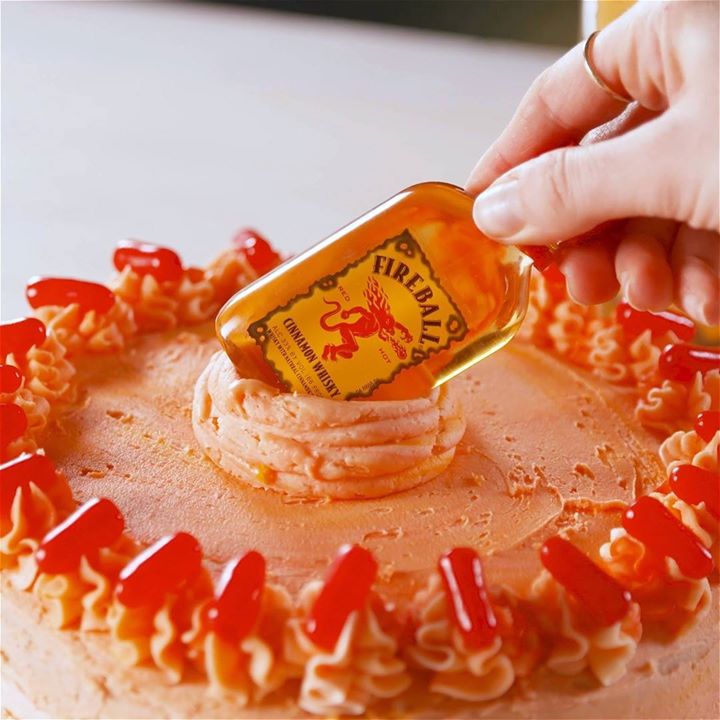 Ingredients
FOR THE CAKE
1 box vanilla cake
1 tsp. ground cinnamon
⅓ c. vegetable oil
3 large eggs
½ c. water
½ c. Fireball whisky
FOR THE FILLING AND FROSTING
1⅓ c. (3 sticks) butter, softened
6 c. powdered sugar
¼ c. Fireball whisky
Pinch kosher salt
Yellow and red food coloring
FOR DECORATION
Hot Tamales
Fireball nip, optional
Instructions
Preheat oven to 350° and grease and flour two 8" round pans with parchment paper. In a large bowl, mix together cake mix and cinnamon, then stir in vegetable oil, eggs, water and Fireball. Divide evenly between prepared cake pans. Bake according to package directions and let cool completely.
Make Fireball frosting: In a large bowl, combine butter, half the powdered sugar, salt, and remaining ¼ cup Fireball. Using a hand mixer, beat until smooth. Add the remaining powdered sugar and beat until light and fluffy. Gently stir in yellow food coloring, then red, being careful not to over mix (you want it to be streaky).
Place a dab of frosting on cake plate (to keep cake in place) and place parchment strips on each side of the cake plate. Place down first cake and top with frosting, then top with second cake and frost. Frost the sides, then transfer remaining buttercream into a piping bag fitted with a star tip.
Pipe dollops of buttercream all around the cake and top with hot tamales. Pipe a large swirl into the center of the cake and top with a miniature bottle of Fireball.
Watch the recipe video here:
Screw birthday cake — give us FIREBALL cake ?Full recipe: http://dlsh.it/cxKOpuJ

Posted by Delish on Saturday, April 7, 2018