Whole Pineapple Upside Cake
Whole Pineapple Upside Cake recipe.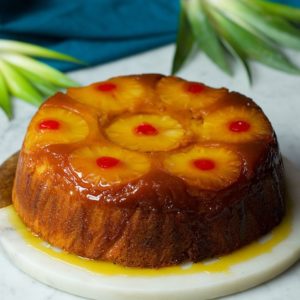 Ingredients
400ml golden syrup
50g butter
450g very soft butter
450g caster sugar
6 medium eggs
450g self raising flour
15 tbsp milk
1 large pineapple
6 pineapple rings (from a can is fine)
6 glace cherries
Instructions
Preheat the oven to 180°C/360°F.
Heat the golden syrup and butter until bubbling. Leave to cool a little.
Cream together butter and sugar until light and fluffy.
Add the beaten eggs a little at the time to the mixture, then fold in the flour. Thin down with the milk to make a spoonable cake batter.
Line a deep casserole dish on both bottom and sides. Pour half the syrup over the bottom and arrange the pineapple rings on top. Place a cherry in the middle of each ring - cheeky!
Trim the skin off the pineapple and cut out the middle. Roast for half an hour until fairly soft.
Spoon a little of the cake batter on top and place the pineapple on top. Add the rest of the batter around the pineapple and spoon over it.
Bake for around an hour, until a knife comes out clean, then leave to sit for ten minutes before lifting off the casserole. Pour the leftover syrup on top. Tuck in!
Watch the recipe video here: